The Water-Energy-Food Nexus in Libya, UAE, Egypt and Iraq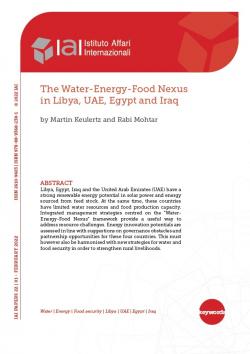 Libya, Egypt, Iraq and the United Arab Emirates (UAE) have a strong renewable energy potential in solar power and energy sourced from feed stock. At the same time, these countries have limited water resources and food production capacity. Integrated management strategies centred on the "Water-Energy-Food Nexus" framework provide a useful way to address resource challenges. Energy innovation potentials are assessed in line with suggestions on governance obstacles and partnership opportunities for these four countries. This must however also be harmonised with new strategies for water and food security in order to strengthen rural livelihoods.
Paper prepared in the framework of the IAI-Eni Strategic Partnership, February 2022.

iaip2201.pdf
Details

Rome, IAI, February 2022, 27 p.

In:


Issue

22|01

ISBN/ISSN/DOI:

978-88-9368-238-1
Introduction
1. An assessment of the natural and institutional environment in the four countries
1.1 Water
1.2 Food
1.3 Energy
1.4 Demography
1.5 Political stability and governance
1.6 Climate change
2. The imperative to manage these resources in an integrated manner
2.1 Water and energy
2.2 Water and food
2.3 The role of energy in the food system
2.4 From sectoral to systems thinking: How the WEF Nexus can address critical challenges for energy-producing countries
2.5 Solar production and ammonia
3. Institutional challenges and requirements
3.1 Libya
3.2 United Arab Emirates
3.3 Egypt
3.4 Iraq
3.5 Public-private partnerships as a future development model?
4. Europe's role in transitioning to a low-carbon future in Libya, Egypt, Iraq and the UAE
Conclusions
References