Van Wittel/Vanvitelli Dialogue Policy Roundtable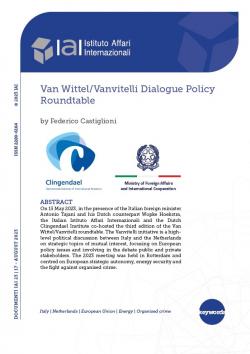 On 15 May 2023, in the presence of the Italian foreign minister Antonio Tajani and his Dutch counterpart Wopke Hoekstra, the Italian Istituto Affari Internazionali and the Dutch Clingendael Institute co-hosted the third edition of the Van Wittel/Vanvitelli roundtable. The Vanvitelli initiative is a high-level political discussion between Italy and the Netherlands on strategic topics of mutual interest, focusing on European policy issues and involving in the debate public and private stakeholders. The 2023 meeting was held in Rotterdam and centred on European strategic autonomy, energy security and the fight against organised crime.
Report of the Van Wittel/Vanvitelli Roundtable organised in Rotterdam on 15 May 2023 by the Istituto Affari Internazionali (IAI) and Clingendael Institute.

iai2317.pdf
Details

Rome, IAI, August 2023, 6 p.

In:


Issue

23|17
Introduction
Dialogue 1 - Energy security in times of crisis: Moving from gas to hydrogen?
Dialogue 2 - Open strategic autonomy: De-risking and dealing with strategic dependencies
Dialogue 3 - Money-laundering, sanctions and illicit trafficking: Fighting international crime together
Conclusion