The Uneasy Balance. Potential and Challenges of the West's Relations with the Gulf States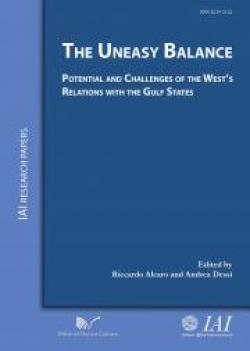 In the wake of the Arab uprisings, the member states of the Gulf Cooperation Council (GCC) - Bahrain, Kuwait, Oman, Qatar, Saudi Arabia and the United Arab Emirates - have visibly increased their diplomatic, economic and military involvement in the Arab world. GCC states have, with certain variations, played an important role in the political transformations underway in Tunisia, Egypt, Libya, Yemen and Syria while extending significant financial and diplomatic support to the Arab monarchies of Morocco and Jordan and decisively coming out against any political change in Bahrain. In parallel to the GCC's increased role in the region, the United States and the European Union have suffered a relative loss of influence as a result of the toppling of longstanding Arab allies and the economic crisis. In light of these developments, the deepening relationship between the West and the GCC has emerged as a major dynamic over the past two years. While significant potential for cooperation exists and, in some areas, immediate interests do overlap, this relationship is also fraught with significant challenges given the West's necessity to balance its economic and strategic interests in the region with a broader commitment to support the spread of democracy, human rights and the rule of law.
Revised and updated versions of the papers presented at the fifth edition of the Transatlantic Security Symposium, held in Rome on 16 November 2012.

iairp_08.pdf
Details

Roma, Nuova Cultura, April 2013, 159 p.

Issue

8

ISBN/ISSN/DOI:

978-88-6812-050-4
List of Contributors
List of Abbreviations

Introduction. The West and the Gulf States at the Dawn of the New Millennium, Riccardo Alcaro, p. 13-31
The Evolving Strategic Outlook of the GCC
The GCC and the Arab Uprisings
The Basis of West-GCC (Partial) Alignment
Conclusion: 'Your Sins Will Come Back to Haunt You'

1. The GCC States and the West: Challenges of Arab Transitions, Christian Koch, p. 33-48
A Changing Regional Balance
The GCC and the West: Convergence amidst Challenges
Conclusion

2. The Arab Spring: the Changing Dynamics of West-GCC Cooperation, Claire Spencer and Jane Kinninmont, p. 49-69
The Global Context for West-GCC Relations
Evolving Responses to the Shock of the Arab Uprisings
Post-2011 Strategies: Still a Work in Progress
Gulf Perceptions of the Colonial Legacy
Western Perceptions of the Gulf States
Conclusion

3. Iran: the Uncertain Basis of the West-GCC Strategic Alignment, Simon Henderson, p. 71-82
Background
The Shape of the GCC
Conclusion

4. Triangulating Iranian-Western-GCC Relations, Rouzbeh Parsi, p. 83-95
Framing the Issue
Iran and West-GCC Relations
Conclusion

5. Combating Unconventional Threats in the Gulf: Convergence and Divergence between the West and the GCC, Frederic Wehrey, p. 97-112
A GCC-Western Convergence: Piracy and Terrorism Threats
Political and Ideological Threats after the Arab Uprisings
Conclusion

6. The Odd Couple: NATO and the GCC, Florence Gaub, p. 113-126
How It All Began: the Backdrop to the Istanbul Cooperation Initiative
In Practice: Cooperation between NATO and the Gulf
Common Threats, but Same Priorities?
Conclusion

Appendix A. NATO's Relations with the Gulf Region, Rolf Schwarz, p. 127-132
Appendix B. Potential and Challenges of EU-US Relations with the Gulf Cooperation Council. Report of the Transatlantic Security Symposium 2012, Andrea Dessì, p. 133-146
Appendix C. List of Participants in the Transatlantic Security Symposium 2012, p. 147-151
Bibliography, p. 153-159