Turkey vis-à-vis Russia's War against Ukraine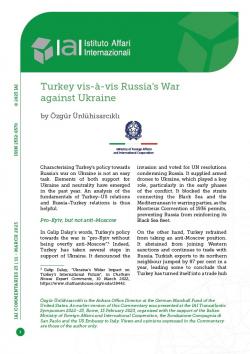 Characterising Turkey's policy towards Russia's war on Ukraine is not an easy task. Elements of both support for Ukraine and neutrality have emerged in the past year. An analysis of the fundamentals of Turkey–US relations and Russia–Turkey relations is thus helpful.

Pro-Kyiv, but not anti-Moscow

In Galip Dalay's words, Turkey's policy towards the war is "pro-Kyiv without being overtly anti-Moscow".[1] Indeed, Turkey has taken several steps in support of Ukraine. It denounced the invasion and voted for UN resolutions condemning Russia. It supplied armed drones to Ukraine, which played a key role, particularly in the early phases of the conflict. It blocked the straits connecting the Black Sea and the Mediterranean to warring parties, as the Montreux Convention of 1936 permits, preventing Russia from reinforcing its Black Sea fleet.

On the other hand, Turkey refrained from taking an anti-Moscow position. It abstained from joining Western sanctions and continues to trade with Russia. Turkish exports to its northern neighbour jumped by 87 per cent in a year, leading some to conclude that Turkey has turned itself into a trade hub between Russia and the West.[2] Russian oligarchs and ordinary citizens, seeing Turkey as a safe harbour, moved assets into the country. Turkey also continues the political dialogue with Russia: President Recep Tayyip Erdoğan has continued to meet his Russian counterpart Vladimir Putin, and the Turkish and Syrian defence ministers recently came together in Moscow under Russian facilitation. Maintaining political dialogue with Moscow and not joining the sanctions against Russia gave Turkey the opportunity to play a facilitator/mediator role between Kyiv and Moscow, a policy that is strongly supported by the Turkish public opinion.[3] Turkey facilitated not only meetings between Russia and Ukraine at the technical level in İstanbul but also at the level of foreign ministers in Antalya in March 2022. Turkey also mediated the grain deal in July 2022 and a prisoner swap between Russia and Ukraine in December 2022. How can Turkey support Ukraine, but not directly confront Russia, and why does it choose to do that? The answer lies in Turkey's grand strategy.

A competitive cooperation?

Indeed, alongside with looking West policy, balancing major powers is among the pillars of Turkey's grand strategy.[4] This strategy goes back to the 19th century when the Ottoman Empire balanced the British and Russian Empires as a strategy for survival. From a long-term perspective, the Russia–Turkey relationship is characterised by "competitive cooperation".[5] While Russia and Turkey compete in Syria, the South Caucasus, Central Asia and Libya, this does not prevent cooperation between them in other areas such as the economy, trade and energy. Even on issues where they are competing, such as Syria and the South Caucasus, they can limit competition through mutual accommodation of each other's priorities.

The Russia–Turkey competitive cooperation is not a stable one and largely depends on both parties' relationship with the West. This is especially true for Turkey. When both felt excluded by the West, as was the case during the 1920s when the Bolsheviks were fighting for their survival and the Kemalists were waging a war of independence against European great powers, Russia supported the nationalist cause in Turkey by supplying weapons. In the early post-war period, however, Turkey joined NATO and the Western camp after Stalin had asked Ankara to give up sovereignty over the Bosporus and Dardanelle Straits. Ankara started again looking more favourably towards détente with Russia in the 1970s. This was due to the US arms embargo against Turkey as a result of the Turkish invasion of Cyprus in 1974 in response to the collapse of the constitutional order on the island and Greece's attempt to illegally annex it.

This dynamic can help explain Turkey's rapprochement with Russia after the failed coup in 2016, but only partially. In 2016, Turkey had several reasons to be frustrated with the United States and the EU. Washington continued to support the Kurdish YPG force in Syria against the Islamic State, despite Turkish allegations that YPG was the Syrian branch of the PKK, a designated terrorist organisation not only in Turkey, but in the United States too. The YPG had gained control of a large swath of territory in Northern Syria all the way from the Iraqi border to Afrin, getting very close to the Mediterranean. The United States did not accommodate Turkish demands to deterritorialise the YPG, but Russia did. Ankara made its first operation in Syria, Operation Euphrates Shield, in the Russian-controlled northwest in August 2016, roughly one month after the failed coup attempt.[6]

Mistrust of the West?

If frustration with the United States was one reason why Turkey decided to cooperate with Russia, perceived threat from the United States could be another. Nicholas Danforth has argued that Turkey perceives both the backing of the YPG by the United States and various regional events, such as the 2013 overthrow of the Muslim Brotherhood in Egypt, the blockade of Qatar by Saudi Arabia and the United Arab Emirates, and the increasing partnership between Greece, the Republic of Cyprus, and Israel in the eastern Mediterranean, as indications of "hostile Western encirclement".[7]

As Şaban Kardaş and I have argued, there are four key issues that affect the US–Turkey security relationship: an outdated strategic framework, deficit of trust, erosion of institutional ownership, and adverse public opinion on both sides.[8]

As far as Europe is concerned, the EU–Turkey relationship suffers from not only the stalling of the accession process, as a result of democratic backsliding in Turkey, but competition rather than cooperation on foreign policy. As reported by Selim Yenel, Turkey's alignment with the EU's Common Foreign and Security Policy (CFSP) has been weakening rapidly, from 97 per cent in 2007 to 7 per cent in 2022.[9]

Before these structural problems between Turkey and its Western partners are addressed, any progress made in the EU–Turkey and Turkey–US relationships would be suboptimal and temporary.

A balancing act

When Russia's unprovoked aggression against Ukraine turned into a full-scale invasion in February 2022, Turkey engaged in a balancing act. Politically, it supported Kyiv and denounced unprovoked Russian aggression. Militarily, in the early phases of the conflict, when other Western countries were reluctant to make significant arms deliveries to Ukraine, it continued to deliver armed drones to Kyiv, in the form of commercial sales by a privately-owned company.

As mentioned, Turkey also blocked the straits connecting the Black Sea and the Mediterranean to warring parties early on, based on the Montreux Convention. This meant that two of Russia's Slava-class cruisers currently operating in the Mediterranean couldn't enter the Black Sea and Russia could not reinforce its Black Sea fleet,[10] which became a real problem for Moscow after several of its naval vessels were either sunk or badly damaged. If Russia currently does not have sufficient naval power in the Black Sea to threaten Odesa, this is thanks to the Turkish decision to keep the straits blocked.

Meanwhile, however, Turkey did not join the sanctions against Russia, for four main reasons. First, Turkey is opposed to international sanctions not supported by the United Nations as a matter of principle. Second, Ankara was not consulted by either the United States or the EU when their sanctions packages were being drafted. Third, Turkey itself would be badly hit by the sanctions, as was observed in the cases of sanctions against Iraq and Iran. Finally, as evidenced when Turkey downed a Russian Su-24 in 2015, Russia has the ability to retaliate against Turkey economically. On that occasion, on Putin's order, charter flights from Russia to Turkey ground to a halt, significantly reducing the number of Russian tourists in Turkey, and Russia also stopped importing agricultural products from Turkey – all of which hurt the Turkish economy badly.[11] Moreover, it has to be considered that Turkey relies on Russia for 45 per cent of its gas demand.[12]

One must not forget that presidential and parliamentary elections are planned in Turkey for May 2023, which will be competitive. Hence, Erdoğan absolutely needs to keep the Turkish currency stable despite the very large current accounts imbalance, which requires capital inflows to Turkey despite adverse market conditions. Against this backdrop, Putin came to Erdoğan's help in the form of Rosatom injecting capital into its Turkish affiliate Akkuyu Nuclear Plant.[13] While there was also news that Ankara asked Russia to delay a portion of Turkey's gas payments to Gazprom, there is no public information on how this ended.[14]

As the Russia–Ukraine war rages on, Turkey's balancing act may become unsustainable, and Ankara may feel compelled to take a clearer position. Several factors could impact which direction Turkey's position would tilt towards. The upcoming election is one of those factors. A new government in Turkey could have warmer relations with Europe and the US, and less need for Russia. On the other hand, a re-elected Erdoğan, with renewed confidence, could also build more constructive relations with Western allies and be less reliant on Russia's support. The continuation of American resolve is equally key. Political or policy change in Washington resulting in diminished American support for Ukraine would also weaken Turkish support for Kyiv. In a similar vein, a reduction of European support for Ukraine is another important factor. Last but not least, developments on the ground will also play a key role. While additional setbacks faced by Russia on the battlefield leading to discontent at home could lead Turkey to distance itself from Moscow, Russian advances in Ukraine would result in Turkey doubling down on its policy act as a mediator.


Özgür Ünlühisarcıklı is the Ankara Office Director at the German Marshall Fund of the United States.
An earlier version of this commentary was presented at the IAI Transatlantic Symposium 2022–23, Rome, 13 February 2023, organised with the support of the Italian Ministry of Foreign Affairs and International Cooperation, the Fondazione Compagnia di San Paolo and the US Embassy to Italy. Views and opinions expressed are those of the author only.

[1] Galip Dalay, "Ukraine's Wider Impact on Turkey's International Future", in Chatham House Expert Comments, 10 March 2022, https://www.chathamhouse.org/node/28442.

[2] Nicolas Bourcier, "Turkey Has Turned into a Trade Platform between Russia and the West", in Le Monde, 24 October 2022, https://www.lemonde.fr/en/international/article/2022/10/24/turkey-has-turned-into-a-trade-platform-between-russia-and-the-west_6001620_4.html.

[3] Özgür Ünlühisarcıklı, Kadri Tastan and Ceylan Akman Canbilek, "Turkish Perceptions of the European Union 2022", in GMF Insights, 14 April 2022, https://www.gmfus.org/news/turkish-perceptions-european-union-2022.

[4] Mustafa Aydın, "Grand Strategizing in and for Turkish Foreign Policy: Lessons Learned from History, Geography and Practice", in Perceptions, Vol. 25, No. 2 (Autumn-Winter 2020), p. 203-226.

[5] Mustafa Aydın, "The Long View on Turkish-Russian Rivalry and Cooperation", in GMF On Turkey, No. 5 (June 2020), https://www.gmfus.org/news/long-view-turkish-russian-rivalry-and-cooperation.

[6] Sinan Ülgen and Can Kasapoğlu, "Operation Euphrates Shield: Aims and Gains", in Anadolu Agency, 19 January 2017, https://carnegieendowment.org/publications/67754.

[7] Nicholas Danforth, "Frustration, Fear, and the Fate of U.S.-Turkish Relations", in GMF On Turkey, No. 11 (July 2019), https://www.gmfus.org/news/frustration-fear-and-fate-us-turkish-relations.

[8] Özgür Ünlühisarcıklı and Şaban Kardaş, "A Dual Framework for the Turkey-U.S. Security Relationship", in GMF Policy Papers, March 2021, https://www.gmfus.org/news/dual-framework-turkey-us-security-relationship.

[9] Selim Yenel, "Turkey's Disengagement from the European Union", in GMF Insights, 2 February 2023, https://www.gmfus.org/news/turkeys-disengagement-european-union.

[10] Heather Mongilio, "Turkey Closes Bosphorus, Dardanelles Straits to Warships", in USNI News, 28 February 2022, https://news.usni.org/?p=92472.

[11] "Turkey's Downing of Russian Warplane - What We Know", in BBC News, 1 December 2015, https://www.bbc.com/news/world-middle-east-34912581.

[12] "Turkey Has No Plans to Cut Russian Oil Imports, Welcomes Iran Supply", in Daily Sabah, 9 March 2022, http://sabahdai.ly/_168y.

[13] Firdevs Yuksel, "Russia Transferring $15B for Türkiye for Akkuyu NP", in Anadolu Agency, 29 July 2022, http://et.aa.com.tr/35933.

[14] Firat Kozok, Kerim Karakaya and Cagan Koc, "Turkey Wants Russia to Delay Its Gas Payments Until 2024", in Bloomberg, 3 October 2022, https://www.bnnbloomberg.ca/-1.1827463.


Published with the support of the Italian Ministry of Foreign Affairs and International Cooperation. The views expressed in this report are solely those of the author and do not necessarily reflect the views of the Italian Ministry of Foreign Affairs and International Cooperation.

iaicom2311.pdf
Details

Rome, IAI, March 2023, 5 p.

In:


Issue

23|11