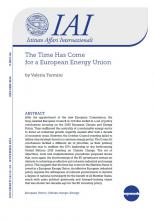 After the appointment of the new European Commission, the long-awaited European Council in October ended in a set of policy conclusions focusing on the 2030 European Climate and Energy Policy. They reaffirmed the centrality of a sustainable energy sector to foster an industrial growth urgently needed after half a decade of economic crisis. However, the October Council meeting failed to define clear strategic lines for a common energy policy. The Council's conclusions tackled a different set of priorities, as their primary objective was to reaffirm the EU's leadership in the forthcoming United Nations 2015 meeting on Climate Change. The set of objectives, tools and implementation procedures proposed shows that, once again, the shortcomings of the EU governance remain an obstacle to achieving an effective and cohesive industrial and energy policy. This suggests that the time has come for the Member States to invest in a European Energy Union. An effective European industrial policy requires the willingness of national governments to devolve a degree of national sovereignty for the benefit of all Member States, much with same political generosity and forward-looking vision that was shown two decades ago for the EU monetary policy.
Paper prepared for the LUISS School of European Political Economy (SEP) and the Istituto Affari Internazionali (IAI). Also published as SEP Policy Brief No. 9 (20 November 2014).
Details:
Roma, Istituto affari internazionali, November 2014, 8 p.
Introduction
Objectives, tools and governance
Concluding remarks: Can Europe dare more?