Space and European Digital Sovereignty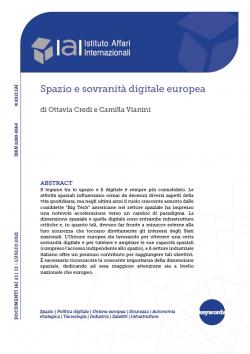 The link between space and the digital world is stronger than ever. Whilst space activities have been influencing different aspects of the everyday life for decades, the growing role gained in the last few years by the so-called American "Big Techs" in the space sector has accelerated a paradigm shift. Both the space and the digital dimensions are critical infrastructures and, as such, they face external threats to their security, which directly affect countries' national interests. The European Union is working to achieve a stronger digital sovereignty and to safeguard and expand its space capabilities (including an independent access to space). In this context, the Italian industrial sector can offer a valuable contribution to reach such goals. Going forward, it will be important to acknowledge the growing relevance of space, and to pay more attention to such dimension both at the national and European level.
Report of the webinar "Spazio e sovranità digitale europea" organised by IAI on 26 May 2021.

iai2111_en.pdf
Details

Rome, IAI, July 2021, 10 p.

In:


Issue

21|11en
1. New actors in space
2. Geopolitical competition and the role of Italy
3. Technological and industrial developments in Europe
4. Europe and the Moon
5. Towards a more competitive Europe
6. Watchword: Access to space
Conclusions