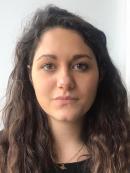 Ottavia Credi is a Junior Researcher in IAI's Defence and Security Programmes. She specialises in international security, European and transatlantic defence, disarmament and non-proliferation. Formerly, Ottavia worked as a Trainee at the European Parliament in Brussels and as an Intern at the American Security Project in Washington DC. Ottavia holds a Bachelor of Arts in International Studies from the University of Trento and a Master of Arts in Intelligence & International Security from King's College London's War Studies Department. She also attended École Universitaire Internationale's 2019 Winter Security Camp.
Her publications include:
"US Non-Strategic Nuclear Weapons in Europe: Necessary or Obsolete?", on americansecurityproject.org (July 2019)

Alessandro Marrone, Karolina Muti,
Rome, IAI, April 2021, 116 p.
Ottavia Credi, Alessandro Marrone, Roberto Menotti
Rome, Aspen Institute Italia, November 2020, 10 p.
In:
Other papers/articles

Alessandro Marrone, Ottavia Credi
Rome, IAI, April 2020, 9 p.