Revamping international response to global food insecurity. Building transparent and participatory selection processes and governance in the UN Rome-based Agencies (RBAs)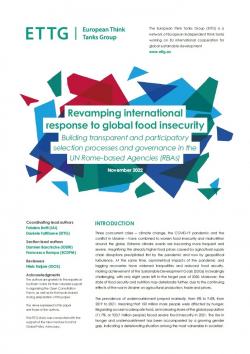 Three concurrent crises — climate change, the COVID-19 pandemic and the conflict in Ukraine — have combined to worsen food insecurity and malnutrition around the globe. Extreme climate events are becoming more frequent and severe, magnifying the already higher food prices caused by agricultural supply chain disruptions precipitated first by the pandemic and now by geopolitical turbulence. At the same time, asymmetrical impacts of the pandemic and lagging recoveries have widened inequalities and reduced food security, making achievement of the Sustainable Development Goals (SDGs) increasingly challenging, with only eight years left to the target year of 2030. Moreover, the state of food security and nutrition may deteriorate further, due to the continuing effects of the war in Ukraine on agricultural production, trade and prices. The prevalence of undernourishment jumped markedly, from 8% to 9.8%, from 2019 to 2021, meaning that 150 million more people were affected by hunger. Regarding access to adequate food, an increasing share of the global population (11.7%, or 923.7 million people) faced severe food insecurity in 2021. The rise in hunger and undernourishment has been accompanied by a growing gender gap, indicating a deteriorating situation among the most vulnerable in societies. More recent data, based on 82 countries in which the United Nations (UN) World Food Programme (WFP) has an operational presence, points to a total of 345 million people who were acutely food insecure or at high risk of acute food insecurity in 2022 – a rise of almost 200 million compared to pre-pandemic levels. The data on malnutrition are similarly alarming. The number of acutely malnourished children reached 60 million in 2022 (+27.6% compared to pre-pandemic levels). Faster progress is needed to achieve the 2030 target of reduced stunting among children under five years of age, despite declining shares between 2000 and 2020 (from 33.1%, or 201.6 million children, to 22%, or 149.2 million children). Child wasting (affecting 6.7%, or 45.4 million children in 2020) and overweight (+5.6 million children under five years of age) also show concerning trends, again casting doubt on the world's ability to achieve the SDGs.
Details

(with Damien Barchiche, Francesco Rampa), in ETTG Publications, November 2022, 12 p.