Report of the Conference "Is Regional Cooperation in the Maghreb Possible? Implications for the Region and External Actors"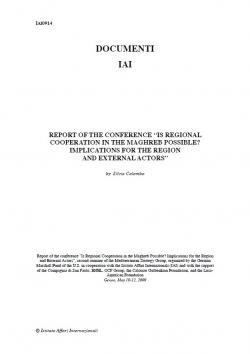 Sessions were designed to provoke discussion on the general theme of the political-economic and geostrategic challenges posed by underdeveloped south-south ties – the "costs of a non-Magreb" – and policy implications for regional and extra-regional actors. The meeting also explored possible lessons from other regions where historic impediments to cooperation and integration have been overcome.
Report of the second seminar of the Mediterranean Strategy Group, organised by the Istituto Affari Internazionali (IAI) in cooperation with German Marshall Fund of the United States, Genoa, 11-12 May 2009.

iai0914.pdf
Details

Roma, IAI, July 2009, 11 p.

In:


Issue

09|14
Introduction
1. State of Relations in a Fragmented Region: The Economic and Strategic Costs of a "Non Maghreb"
2. Opportunities and Obstacles in Key Sectors: Energy Trade and Alternative Energy
3. Trade, Investment, and Infrastructure
4. Development and Security
5. Lessons from Other Cases: Balkans, Aegean, Latin America
6. What is Possible? Net Assessment and Policy Implications for External Actors