Quale futuro per la cooperazione Nato-Ue?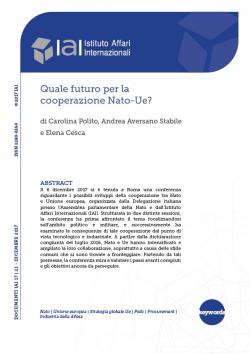 Il 6 dicembre 2017 si è tenuta a Roma una conferenza riguardante i possibili sviluppi della cooperazione tra Nato e Unione europea, organizzata dalla Delegazione italiana presso l'Assemblea parlamentare della Nato e dall'Istituto Affari Internazionali (IAI). Strutturata in due distinte sessioni, la conferenza ha prima affrontato il tema focalizzandosi sull'ambito politico e militare, e successivamente ha esaminato le conseguenze di tale cooperazione dal punto di vista tecnologico e industriale. A partire dalla dichiarazione congiunta del luglio 2016, Nato e Ue hanno intensificato e ampliato la loro collaborazione, soprattutto a causa delle sfide comuni che si sono trovate a fronteggiare. Partendo da tali premesse, la conferenza mira a valutare i passi avanti compiuti e gli obiettivi ancora da perseguire.
Report of the conference "Cooperazione Nato-Ue: quale futuro?" organized in Rome on 6 December 2017 by the Italian Delegation to NATO Parliamentary Assembly in cooperation with the Istituto Affari Internazionali (IAI).

iai1721.pdf
Details

Roma, IAI, December 2017, 12 p.

In:


Issue

17|21
Introduzione
Panel 1: Sviluppi politici e militari
Panel 2: Sviluppi tecnologici e industriali
Conclusioni
Programma