Priorities and Challenges of the 2014 Italian EU Presidency. Report of the TEPSA Pre-Presidency conference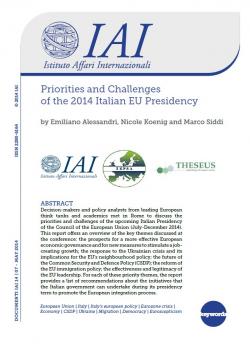 Decision-makers and policy analysts from leading European think tanks and academics met in Rome to discuss the priorities and challenges of the upcoming Italian Presidency of the Council of the European Union (July-December 2014). This report offers an overview of the key themes discussed at the conference: the prospects for a more effective European economic governance and for new measures to stimulate a job-creating growth; the response to the Ukrainian crisis and its implications for the EU's neighbourhood policy; the future of the Common Security and Defence Policy (CSDP); the reform of the EU immigration policy; the effectiveness and legitimacy of the EU leadership. For each of these priority themes, the report provides a list of recommendations about the initiatives that the Italian government can undertake during its presidency term to promote the European integration process.
Report of the TEPSA Pre-Presidency conference on "Priorities and challenges of the 2014 Italian EU Presidency", organised in Rome on 24-25 March 2014 - within the framework of the project of the same title - by the Trans European Policy Studies Association (TEPSA), Istituto Affari Internazionali (IAI) and Theseus in cooperation with Italian Ministry of Foreign Affairs, European Commission Representation in Italy and Centro studi sul federalismo (CSF).

iai1407.pdf
Details

Roma, Istituto affari internazionali, May 2014, 11 p.

In:


Issue

14|07
1. Towards better economic governance, growth and employment
2. Ukraine and the Eastern neighbourhood
3. CSDP after the 2013 European Council on Defence: the way forward
4. Towards a more effective EU immigration policy
5. EU leadership: tasks ahead and the need for greater institutional effectiveness and legitimacy
Annex. Conference programme