Police and Border Controls Cooperation at the EU Level: Dilemmas, Opportunities and Challenges of a Differentiated Approach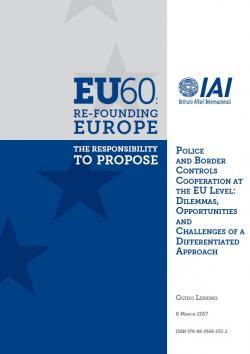 The history of the European Union is a history of differentiated integration. Differentiation is a logical corollary of integration insofar as politicization and incentives for further integration differ among member states. Whereas the first opt-outs from Justice and Home Affairs were conceded in order to continue the ratification process of the Treaty creating the European Union, the question today is whether growing differentiation can save or will wreck the Union. In times of Brexit and surging euroscepticism and against the backdrop of the refugee crisis, the Union's resilience to disintegration is at stake. The willingness of member states to make the next steps towards more integration in order to save the Schengen acquis will decide the future of the Union. Further differentiation in the area of freedom, security and justice threatens to reinforce the dividing line between the core and the periphery of Europe.
Paper prepared within the context of "EU60: Re-Founding Europe. The Responsibility to Propose", an initiative launched by the Istituto Affari Internazionali (IAI) and the Italian Ministry of Foreign Affairs and International Cooperation (MAECI), in cooperation with the Centro Studi sul Federalismo (CSF) and in the framework of IAI's strategic partnership with the Compagnia di San Paolo, on the occasion of the 60th Anniversary of the Treaties of Rome.

eu60_6.pdf
Details

Roma, IAI, March 2017, 15 p.

ISBN/ISSN/DOI:

978-88-9368-033-2
1. Introduction: A challenging state of affairs
1. Differentiation – a compensatory measure of on-going integration
2. Sources and modes of differentiation
3. Dilemmas of differentiated integration
4. Opportunities to break deadlocks in the AFSJ? Three cases for differentiation
4.1 An intricate legal arrangement for Denmark in the AFSJ
4.2 The new European Border and Coast Guard
4.3 The difficult relocation of refugees
5. Outlook
References