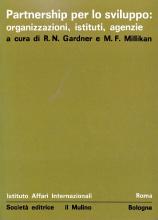 «Partnership per lo sviluppo» svolge un compito notevole nello spiegare il funzionamento degli istituti economici internazionali interessati allo sviluppo. È più di un utile libro per consultazione. Esso presenta nuovi problemi: la politica per lo sviluppo demografico discussa nel convincente saggio di Richard Gardner, la necessità di un maggior coordinamento della politica sociale ed economica suggerita da Walter Kotsching, un piano di sviluppo mondiale caldamente sostenuto dal premio Nobel Jan Tinbergen.
Translation of The Global Partnership. International Agencies and Economic Development, New York, Praeger, 1968.
Details:
Bologna, Il mulino, February 1970, 310 p.
Prefazione all'edizione italiana, Richard N. Gardner, Max F. Millikan, p. 5-7
I. lntroduzione, di Max F. Millikan, p. 11-25
II. Le Nazioni Unite come strumento per lo sviluppo economico e sociale, di Walter M. Kotsching, p. 27-54
Ill. L'Accordo generale sulle tariffe doganali e il commercio, di John W. Evans, p. 55-82
IV. La Conferenza delle Nazioni Unite sul commercio e sullo sviluppo, di Richard N. Gardner, p. 83-115
V. Il Fondo monetario internazionale, di Edward M. Bernstein, p. 117-138
VI. Il gruppo della banca mondiale, di Roy Blough, p. 139-171
VII. Il finanziamento regionale dello sviluppo, di Henry S. Bloch, p. 173-196
VIII. L'assistenza tecnica multilaterale, di Karl Mathiasen Ill, p. 197-217
IX. L'Organizzazione per la cooperazione e lo sviluppo economico, di Goran Ohlin, p. 219-232
X. Verso un programma demografico mondiale, di Richard N. Gardner, p. 233-265
XI. Per un programma mondiale di sviluppo, di Jan Tinbergen, p. 267-282

Appendici
I. Bibliografia selezionata, p. 285-305
II. Siglario, p. 307-310