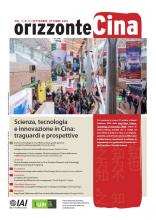 Scienza e tecnologia in Cina. Molti successi, grandi speranze (e qualche fondata perplessità) | Daniele Brombal
Sviluppo e fattori di criticità della ricerca cinese | Roberto Coisson
Il cambiamento è l'unica costante. Quattro scenari per il futuro della ricerca e dell'innovazione in Cina | Epaminondas Christofilopoulos
L'intervista – Jian Lu, Vice-President (Research and Technology) della City University of Hong Kong | Daniele Brombal
Europa&Cina – Scienza e tecnologia nelle relazioni Cina-Europa | Nicola Casarini e Lorenzo Mariani
Cinesitaliani – La fabbrica del risentimento: il razzismo quotidiano e le sue conseguenze | Daniele Brigadoi Cologna
China Media Observatory – Internet plus: un progetto strategico per lo sviluppo tecnologico | Gianluigi Negro
Recensione – Stella rossa sulla Cina. La storia della rivoluzione cinese, di Edgar Snow | Giuseppe Gabusi
Details:
Roma, IAI ; Torino, T.wai, October 2016, 17 p.