Observatory on European defence, September 2012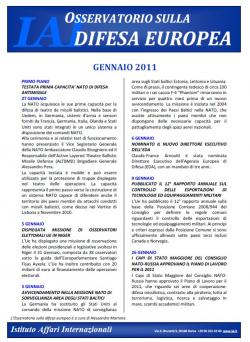 IN THE SPOTLIGHT : SEPTEMBER 13
EUMM GEORGIA MANDATE EXTENDED FOR ONE YEAR
The Council of the EU has decided to further extend the mandate of EU Monitoring Mission in Georgia (EUMM Georgia) until 14 September 2013. The budget allocated for that year is of €20.9 million. The European Union monitoring mission in Georgia is led by the EU under the Common Security and Defense policy (CSDP). It aims at contributing internal stability and at securing the surrounding region by monitoring and analyzing the situation in relation to the stabilization process.
SEPTEMBER 20
COOPERATION AGREEMENT SIGNED BETWEEN NATO AND REPUBLIC OF KOREA
After 7 years of progressive engagement and dialogue, NATO and the Republic of Korea have signed a cooperation agreement for the promotion of political cooperation and dialogue in several areas such as the fight against terrorism, multinational peace support operations and security. The Republic of Korea is already a partner to NATO's stabilization process in Afghanistan, where it leads the Provincial Reconstruction Team in the Parwan province.
SEPTEMBER 24
COOPERATION AGREEEMENT SIGNED BETWEEN NATO AND IRAQ
NATO has signed a cooperation agreement with Iraq to support the realization of security institutions in the country. The Individual Partnership and Cooperation Programme (IPCP) aims at promoting dialogue and facing shared threats, by developing in conjunction the capacity of Iraq's security institutions and the expertise of its national defence personnel. The agreement represents also a framework for regular political dialogue and for training cooperation in counterterrorism, crisis management, and logistics.
SEPTEMBER 25
NEW HEAD OF EUBAM RAFAH MISSION
Colonel Francesco Bruzzese del Pozzo has been appointed new Head of EUBAM Rafah Mission for the monitoring of the Rafah crossing point. The decision was taken by the EU Political and Security Committee. Mr. Bruzzese del Pozzo, from Italy, will take up his duties on 1 October 2012, and his mandate will last until 30 June 2013. He takes the place of Captain Davide Palmigiani, who had been Head of the Mission ad interim since July 2012.
SEPTEMBER 25
NEW EU FUNDING FOR AMISOM MISSION IN SOMALIA
The EU has decided to further support the Mission of the African Union in Somalia (AMISOM) by financing other 82 million euros, bringing the overall EU contribution to €411.4 million since 2007. AMISOM is an African Unionled mission, decided by the UN Security Council, with the aim of helping dialogue and reconciliation in Somalia and protecting key infrastructures to allow the new federal institutions to carry out their functions.

od_september_12.pdf
Details

Roma, Istituto affari internazionali, 2012, 1p.

Issue

12/09