Observatory on European Defence, May 2012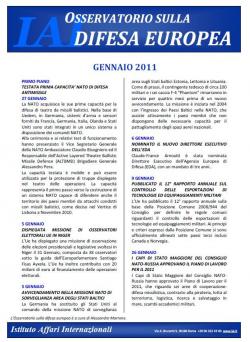 IN THE SPOTLIGHT : MAY 21
NATO DECIDES A NEW MISSION IN AFGHANISTAN
NATO's 28 Member States have participated at Chicago Summit during which it was decided that the current NATO mission in Afghanistan will end in 2014. The current mission will be replaced by a new one with the sole aim of training, assisting and supplying the Afghan security forces. In addition, the revision of the nuclear posture of the Alliance has been approved, and the commitment in the cooperation initiatives under the so-called Smart Defence has been reasserted.
MAY 3 AND 31
EU FURTHER STRENGTHENS SANCTIONS AGAINST THE MILITARY JUNTA IN GUINEABISSAU
Following the critical situation in Guinea-Bissau, the EU Council has decided to further strengthen the sanctions against the military junta by adding 21 individuals to those affected by the visa ban and the assets freeze. After the coup d'état in 2010, all European programmes of development cooperation for Guinea-Bissau have been suspended. In turn, humanitarian aids and those directly addressed to the population are still in force.
MAY 14
THE EU FURTHER STRENGHTENS THE SANCTIONS AGAINST SYRIA
Following the recent events in Syria, the EU Council has decided to tighten the sanctions against Syria, by imposing the freeze of economic assets on two companies linked with the regime, together with those of three individuals who are already subjected to the visa ban. So far, the EU Council has been adopting sanctions for 15 times against Syria since the beginning of the violent repression against the population.
MAY 15
FIRST MISSION OF EUNAVFOR – ATALANTA AGAINST TERRITORIAL TARGETS
EUNAVFOR Atalanta has successfully accomplished the destruction of various logistic deposits used by the pirates. This was the first time the European mission carried out such an operation inshore. This operation is part of the EU efforts to adopt a wider approach to the fighting against piracy, which entails the elimination of logistic facilities employed by pirates.

od_may_12.pdf
Details

Roma, Istituto affari internazionali, 2012, 1p.

Issue

12/05