Observatory on European defence, July-August 2013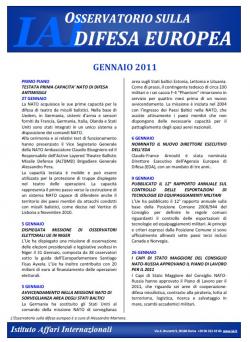 IN THE SPOTLIGHT : JULY 24
EC ADOPTS THE COMMUNICATION ON DEFENCE AND SECURITY SECTOR
The European Commission has adopted a communication, entitled "Towards a more competitive and efficient defence and security sector", announcing a set of measures to enhance the efficiency of Europe's defence and security sector. The document focuses on a range of policy areas and the sector including industrial policy, the single market (defence procurement) and research, as well as space and energy. It explores ways the EU can support Member States in strengthening the Common Security and Defence Policy (CSDP) and outline proposals for fostering innovation, growth and jobs, through the promotion of civilian/military synergies and measures to support defence-related SMEs.
JULY 3
EXTENDED THE MANDATE OF EUPOL COPPS
The EU Council has decided to extend the mandate of EUPOL COPPS in the Palestinian territories until 30 June 2014 together with the mandate of the Head of Mission, Kenneth Deane. EUPOL COPPS will have a budget of € 9.5 million for its activities of institution building aimed at increasing safety's level of the Palestinian population and ensuring the law enforcement.
5-19-22-23 JULY
APPOINTED THE NEW EU HEADS MISSION IN MALI, HORN OF AFRICA AND RAFAH AND THE NEW EU REPRESENTATIVE IN AFGHANISTAN
Gerhard Schlaudraff has been appointed as the new head of the civil mission EU BAM Rafah, began in 2005 in order to monitor the operations at the Rafah Crossing Point (RCP). The end of Schlaudraff's mandate has been set for June 2014.
The French Brigadier General Bruno Guibert has been appointed as the new head of the mission EUTM Mali. Guibert replaces the Brigadier General François Lecointre, head of the mission in Mali since January 2013.
Etienne de Poncins has been appointed as the head of Mission EUCAP Nestor until 15 July 2014. He replaces Jacques Launay, whose position has been covered since July 2012.
Finally, the EU Council has appointed Mr Franz -Michael Skjold Mellbin as EU Special Representative in Afghanistan. The ambassador Skjold Mellbin is a Danish diplomat with more than 25 years of experience, recently Special Representative of Denmark in Afghanistan and Pakistan. In office since September, its mandate will remain valid until 30 June 2014. The Special Representative is also the head of the EU delegation in Kabul.
AUGUST 2
A NEW NATO AIR COMMANDER AT RAMSTEIN
The U.S. General Frank Gorenc assumed the command of NATO'Allied Air Command in Ramstein, Germany. The General Gorenc substitutes the General Breedlove, former Commander of Allied Air Command before becoming the new SACEUR (Supreme Allied Commander Europe).
AUGUST 21
SUSPENDED EXPORT LICENSES OF MILITARY EQUIPMENTS TO EGYPT
Due to the deteriorating internal situation in Egypt, EU member states have decided to suspend the release of licenses for the export of military equipments.

od_july_august_13.pdf
Details

Roma, Istituto affari internazionali, 2013, 1p.

Issue

13/07-08