Observatory on European defence, July-August 2000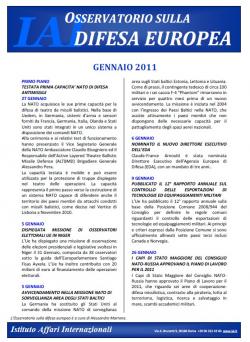 July 2000
EU French Presidency – ESDP Program
French Defence Minister defined the ESDP initiative program for next semester, during which France will chair the EU Council. In view of the meetings scheduled on 22 September, 16, 20 and 21 November and the European Council in December, work will focus on: institutional reform of treaties and relations with WEU; establishment of stable relations with the USA and other non-EU countries; development of a real military capability through the "Force Generation Conference"; establishment of permanent ESDP bodies.
24-26-28 July 2000    27 July 2000
First Meeting working groups EU-NATO

First "15 + 15" Meeting between EU, NATO and candidate countries
Three out of four working groups between EU countries and non-EU NATO countries had their first meetings on 24 July (security), 26 July (EU access to NATO capabilities) and 28 July (military capabilities).
On 27 July the first meeting between EU members, EU enlargement candidate countries and non-EU NATO countries took place. The meeting aimed at providing information on ESDP development and verifying the countries' willingness to contribute actively to EU operational capabilities.
27 July 2000
Developments in LoI agreement
Ministers of Defence of six LoI (Letter of Intent) countries, signed a framework agreement concerning the integration of their defence industries.
Items involved are: export procedures, harmonization of military requirements, security of output and information, technology sharing and technical development.The intergovernmental agreement between France, Germany, Italy, United Kingdom, Spain and Sweden represents a further step towards integration of EU countries' defence policies and the constitution of an industrial base supporting the EU defence decision making process.
The agreement between major arms producer countries will facilitate the development of common regulations for European defence industries, required for a balanced growth of ESDP.
The document requires the approval of national Parliaments and further discussion on the effective implementation of the framework agreement; this process could generate delays in implementating the agreement.
Furthermore, there should be some coordination between this initiative and those by the different international agencies dealing with ESDP, such as WEU, OCCAR, WEAG and EU.
Details

Roma, Istituto affari internazionali, 2000

Issue

00/07-08