Observatory on European defence, April 2013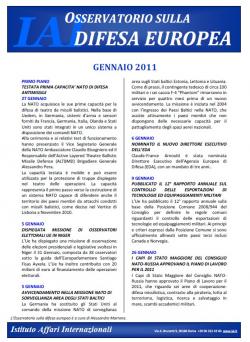 IN THE SPOTLIGHT : APRIL 15
NATO AND JAPAN STRENGTHEN THE PARTNERSHIP
NATO Secretary General Rasmussen and the Japanese Prime Minister Shinzo Abe have signed a Joint Political Declaration for a stronger partnership. The declaration represents a commitment to a stronger NATO-Japan relationship and reflects the shared strategic interests in promoting peace. The areas where cooperation will be increased are indicated in the document as follows: enhanced coordination in crisis management and intensified cooperation in disaster relief, terrorism, piracy and cyber attacks.
APRIL 23
BALTIC STATES SIGN THE EDA JOINT AMMUNITION PROCUREMENT AGREEMENT
The Ministers of Defence of Latvia, Lithuania and Estonia have signed the EDA Joint Procurement Agreement concerning different types of Carl Gustav anti-tank and multi-purpose ammunition for an estimated value of €50 million. The Joint Procurement Agreement governs the rights and responsibilities of contributing Member States and EDA. While the countries buy through the Agency, EDA acts as a central purchasing body and pools and consolidates demand. Also other Member States have already expressed interest to join it.
APRIL 24
EU EASES SANCTIONS AGAINST SYRIA AND MYANMAR/BURMA
The Council has decided to ease the oil embargo against Syria in order to support political opposition and civilians. In addition, the EU has lifted the sanctions against Myanmar/Burma to encourage the reform process and the democratic transition of the country.
Syria
The decision allows certain operations on oil and the relative financing, as long as they are carried out in consultation with the Syrian National Coalition for Opposition and Revolutionary Forces and that they do not circumvent EU sanctions. The oil embargo was imposed in September 2011 to contribute to stop the repression by the security government forces.
Myanmar/Burma
The Council has lifted the sanctions against Myanmar/Burma to support the reform and democratization process going on in the country. In particular, suspended sanctions have been lifted while the existing embargo on arms and on materials likely to be used for repression have been maintained.

od_april_13.pdf
Details

Roma, Istituto affari internazionali, 2013, 1p.

Issue

13/04