The Nexus Between Enlargement and Differentiation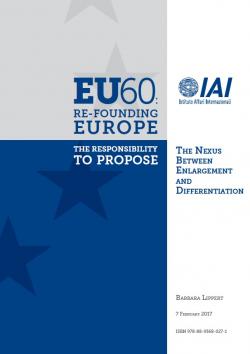 This paper explores the nexus between enlargement and differentiated integration set against the background of past experiences and in view of the future of European integration. Although it considers convergence and not differentiated integration to be the underlying concept of enlargement, it also shows that the EU's enlargement policy involves instruments which allow differentiated treatment. Analyzing the previous rounds of enlargement, the EU system appears to have been robust, coping with temporarily increased degrees of differentiation. However, the author argues against developing new forms of partial membership which would give outsiders a say in decision making. Elaborated types of association are instead advocated. Within the EU, differentiated integration remains the second best option and is not a panacea for better performance, legitimacy or holding the 27 together. In particular the leitmotif of a flexible Union would bear the risk of lengthy internal renegotiations with discontented countries over their terms of membership or even an unravelling of the EU altogether.
Paper prepared within the context of "EU60: Re-Founding Europe. The Responsibility to Propose", an initiative launched by the Istituto Affari Internazionali (IAI) and the Italian Ministry of Foreign Affairs and International Cooperation (MAECI), in cooperation with the Centro Studi sul Federalismo (CSF) and in the framework of IAI's strategic partnership with the Compagnia di San Paolo, on the occasion of the 60th Anniversary of the Treaties of Rome.

eu60_2.pdf
Details

Roma, IAI, February 2017, 15 p.

ISBN/ISSN/DOI:

978-88-9368-027-1
Introduction
1. Widening and deepening – different kinds of differentiated integration
2. Enlargement – convergence with limited and temporary differentiation
3. Partial membership or partial integration
4. Outlook
References