The New Transatlantic Agenda. Facing the Challenges of Global Governance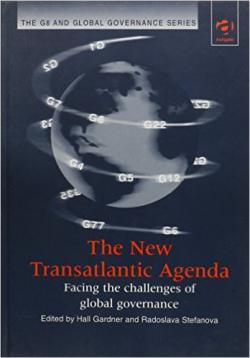 Analyses the new developments in Euro-Atlantic relations in view of the changing nature of European Union (EU) and United States·(US) politics. Examines the relations of the EU and US with strategically important third countries and regions such as Russia, China, the Balkans, and the Middle East, as well as EU and US membership in key organizations, for example, the United Nations (UN) and the GB. This book develops a plausible description of the political processes that condition the origin and evolution of important policy benchmarks such as the Common Foreign Security Policy (CFSP), the European Security and Defense Identity (ESDI) and NATO's evolving strategic concept. The US and EU's expanding economic agendas are assessed on the context of globalization with the purpose of better understanding their impact on both the transatlantic and global level. Finally, each author envisions possible·policy projections for the coming years. A collection of essays authored by a highly-qualified team of experts from both sides of the Atlantic. Designed as a specialized reference·for policy-makers in Europe and the US, universities and research institutes.
This volume collects some of the papers presented at the conference "The New Transatlantic Agenda: Facing the Challenges of Global Governance", organised in Rome on 7-8 July 2000 by the Istituto Affari Internazionali (IAI) and the Centro studi di politica internazionale (CeSPi).
List of Contributors
Introduction, Hall Gardner and Radoslava Stefanova
1. Imperial America and its Republican Constitution, David P. Calleo
2. Strengthening the Atlantic Political Order, John Ikenberry
3. NATO Forever!, Yves Boyer
4. The European Security and Defence Identity: Birth Pangs of a New Atlanticism, Karsten D. Voigt
5. Why St. Malo Matters, Anne Deighton
6. Transatlantic Relations: Beyond the Common Foreign and Security Policy, Jan Zielonka
7. Balkan Clutter: American and European Handling of a Powder Keg, Radoslava Stefanova
8. The Advantages of Complementarity: The Middle East Peace Process, Volker Perthes
9. Russia and China: The Risks of Uncoordinated Transatlantic Strategies, Hall Gardner
10. Uneasy Triangle: Transatlantic Partnership and UN Governance, Dana H. Allin
11. New Challenges for Transatlantic Economic Relations, Bernhard May
12. Conclusion: The New Transatlantic Agenda: Whereto?, Hall Gardner and Radoslava Stefanova