A new multilateralism for the post-COVID world: What role for the EU-Africa partnership?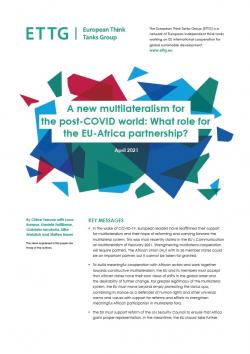 Multilateralism has been in trouble for a while, particularly​ ​at the global level. Yet, the European Union (EU) and its​ ​member states have remained among its staunchest​ ​supporters. ​I​n their June 2019 Council Conclusions, EU​ ​leaders drew the outlines of a common European vision to​ ​uphold, extend and reform the multilateral system. Against​ ​an increasingly complex and contested geopolitical​ ​backdrop, these goals were further developed in the​ ​recent EU Communication on Multilateralism, published in​ ​February 2021.
Details

(with Chloe Teevan, Gabriela Iacobuta, Silke Weinlich, Steffen Bauer), in EETG Publications, April 2021, 21 p.