NATO-EU Cooperation to Project Stability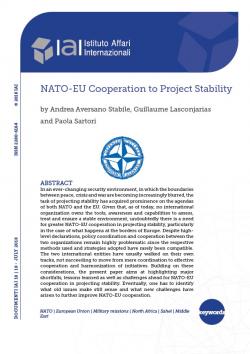 In an ever-changing security environment, in which the boundaries between peace, crisis and war are becoming increasingly blurred, the task of projecting stability has acquired prominence on the agendas of both NATO and the EU. Given that, as of today, no international organization owns the tools, awareness and capabilities to assess, treat and ensure a stable environment, undoubtedly there is a need for greater NATO-EU cooperation in projecting stability, particularly in the case of what happens at the borders of Europe. Despite high-level declarations, policy coordination and cooperation between the two organizations remain highly problematic since the respective methods used and strategies adopted have rarely been compatible. The two international entities have usually walked on their own tracks, not succeeding to move from mere coordination to effective cooperation and harmonization of initiatives. Building on these considerations, the present paper aims at highlighting major shortfalls, lessons learned as well as challenges ahead for NATO-EU cooperation in projecting stability. Eventually, one has to identify what old issues make still sense and what new challenges have arisen to further improve NATO-EU cooperation.
This paper builds on the main issues arisen in the debate which has taken place within the international workshop "NATO-EU Cooperation to Project Stability", organized in Rome by IAI, NATO Defence College and Elettronica on 17 April 2018.

iai1818.pdf
Details

Rome, IAI, July 2018, 19 p.

In:


Issue

18|18
Introduction
1. NATO and the EU: Converging but still divergent slants to tackle instability
1.1 North Africa and Sahel
1.2 Middle East
2. Challenges ahead for enhanced NATO-EU cooperation
2.1 Absence of shared concepts of threat perception
2.2 The EU level of ambition in projecting stability
3. Towards more effective cooperation: From coordination to division of labour
References