A More Honest Debate on Integration. Mercator European Dialogue Thought Piece, Summer 2017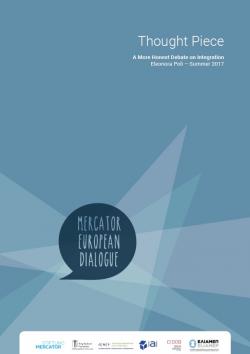 To shed some light on the future of eurozone governance, the Mercator European Dialogue's fourth biannual conference engaged members of national parliaments from across the EU in a conversation on such divisive issues. The conference allowed MPs to share their national perspectives to facilitate a process of mutual understanding by providing insights on how the debate is playing out in different member states and revealing divergent interpretations.
Report of the 4th Mercator European Dialogue "Europe: The Journey Ahead", Berlin, 12-13 May 2017

2017_poli_mercator.pdf
Details

Berlin, German Marshall Fund of the United States, October 2017, 3 p.
Introduction
The Battle of Values
Integration to Overcome Double Standards
Solidarity Comes with Fiscal Responsibility
Your Welfare Is My Welfare
Social Pillar as the Only Option?
Overcoming the Stall Through Political Engagement