The Middle East: Thinking About and Beyond Security and Stability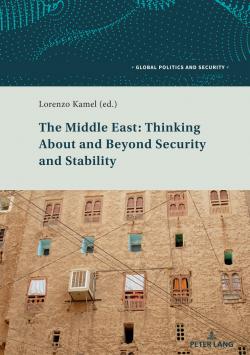 In this edited book, several leading scholars address a number of security-related issues, all connected to one main research question: What (in)security means from the perspective of people living in the Middle East and North Africa? In doing so, the contributors shed light on the contours of a stable and legitimate order that responds to the needs of the peoples in the region, on what history tells us about the ongoing debates on security and stability in the region, and, last but not least, on «human security», which encompasses the dimension of human rights, political rights and social/economic security.
Volume produced in the frame of the New-Med Research Network.

flyer.pdf
Details

Bern [etc.], Peter Lang, 2019, 226 p.

Issue

5

ISBN/ISSN/DOI:

978-3-0343-3876-9; 978-3-0343-3891-2 (pdf); 978-3-0343-3892-9 (ePub); 10.3726/b16053
Foreword / Nicolò Russo Perez, p. 7-9
Introduction / Lorenzo Kamel, p. 11-18
1. From Sectarianization to De-Sectarianization: How to Advance Human Security in the Middle East / Nader Hashemi, p. 19-39
2. Selective Arms Flows and Arms Control: Producing Insecurity in the Middle East ... and Beyond / Coralie Pison Hindawi, p. 41-64
3. Insecurity, Order and Pluralism in the Middle East: An Agenda for a Critical Approach to Security Studies / Waleed Hazbun, p. 65-90
4. Beyond Security and Stability / Elijah J. Magnier, p. 91-114
5. Contra-Identity: Psycho-Nationalism After the 'Middle East' / Arshin Adib-Moghaddam, p. 115-136
6. Islamists and the Arab Counter-Revolutions / Abdullah Al-Arian, p. 137-153
7. Dahlan vs Belhaj: The Maghreb in the Arab War of Narratives / Youssef Cherif, p. 155-171
8. Dialogues in New Middle Eastern Politics: On (the Limits of) Making Historical Analogies to the Classic Arab Cold War in a Sectarianized New Middle East / Morten Valbjørn, p. 173-197
9. Whose Stability? Assessing the 'Iranian Threat' through History / Lorenzo Kamel, p. 199-221
Contributors, p. 223-224
Abbreviations, p. 225-226