L'Unione europea oltre il trauma: integrazione e solidarietà nell'era post-Brexit e Covid-19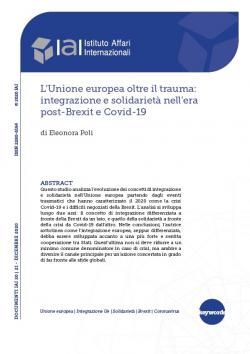 Lo studio analizza l'evoluzione dei concetti di integrazione e solidarietà nell'Unione europea partendo dagli eventi traumatici che hanno caratterizzato il 2020 come la crisi Covid-19 e i difficili negoziati della Brexit. L'analisi si sviluppa lungo due assi: il concetto di integrazione differenziata a fronte della Brexit da un lato, e quello della solidarietà a fronte della crisi da Covid-19 dall'altro. Nelle conclusioni lo studio sottolinea come l'integrazione europea, seppur differenziata, debba essere sviluppata accanto a una più forte e sentita cooperazione tra Stati. Quest'ultima non si deve ridurre a un minimo comune denominatore in caso di crisi, ma ambire a divenire il canale principale per un'azione concertata in grado di far fronte alle sfide globali.
Paper prepared on the occasion of the second Citizens' Dialogue on the Future of Europe, promoted by the IAI and its partners ahead of the Conference on the Future of Europe.

iai2021.pdf
Details

Rome, IAI, December 2020, 9 p.

In:


Issue

20|21
Introduzione
1. L'integrazione ai tempi dell'Ue post-Brexit
2. La solidarietà ai tempi dell'Ue post-Covid
Conclusioni