L'Italia in un mondo che cambia. Suggerimenti per la politica estera italiana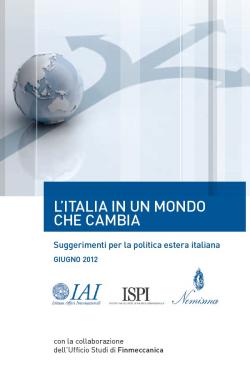 Report prepared by Istituto affari internazionali (IAI), Istituto per gli studi di politica internazionale (ISPI) and Nomisma for the Finmeccanica's Research Department. Presented at a conference organised by the IAI, Rome, 19 September 2012.

italia-in-un-mondo-che-cambia.pdf
Details

Roma, Finmeccanica, 2012, 31 p.
Le proposte. Politiche, strumenti, risorse
Parte prima: l'analisi
1. Il Mondo
    a. Il governo dei nuovi equilibri strategici e il ruolo degli USA
    b. Il governo dell'economia mondiale e le nuove potenze
    c. Il governo dell'ambiente e la posizione dell'UE
2. L'Europa
    a. I limiti del Trattato di Lisbona e il Fiscal Compact
    b. Uscire dalla crisi finanziaria e il ruolo dell'ESM
    c. Rimediare alla crisi delle bilance dei pagamenti
3. Il Mediterraneo e il vicinato
4. Scenari italiani
    a. Alleanza asimmetrica
    b. Bilateralismo autonomo
    c. Multilateralismo attivo
Parte seconda: le politiche
5. Alcune linee di azione: la grande strategia
6. Alcune linee di azione: l'economia
    a. La cooperazione europea
    b. La cooperazione globale
7. Alcune linee di azione: politica estera e di sicurezza