Le politiche di internazionalizzazione per il Mezzogiorno di fronte alla sfida dell'Europa e del mercato globale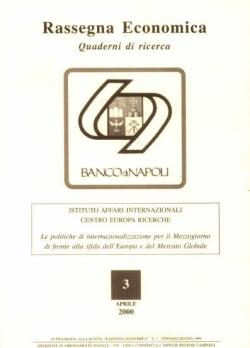 Results of the research project "The Internationalization of Southern Italy's Production and Financial system" (Nov. 1998-July 2000), conducted by the Istituto affari Internazionali (IAI) in cooperation with the Centro Europa ricerche (CER). Presented at the seminar "L'internazionalizzazione del Mezzogiorno di fronte alle sfide dell'Unione europea e del mercato globale", Naples, 8 June 2000.
Supplement to Rassegna economica, n. 1/1999 (gennaio-giugno 1999).
Introduzione, Paolo Guerrieri, p. 5-11
Gli aspetti reali dell'integrazione del Mezzogiorno in Europa e nel mercato globale, Renzo Lolli, p. 13-54
Caratteri settoriali dell'internazionalizzazione produttiva: considerazioni sul caso del Mezzogiorno d'Italia, Stefano Manzocchi, p. 55- 74
Agglomeration, home country effect and promotion policies: a study on FDI in France, Thierry Mayer, Jean-Louis Mucchielli, p. 75-96
Foreign direct investment: implications for Irish economic development and wider lessons, John Bradley, p. 97-137
Foreign direct investment policy in Portugal, Fiona Wishlade, p. 139-169
Innovation and internationalisation policies in Spain: special consideration of less developed areas, Antonio Fonfría, José Molero Zayas, p. 171-203
The regional dimension of innovation and policies for SMEs: the Norwegian case, Keith Smith, p. 205-241
Le riforme degli strumenti e delle politiche per l'internazionalizzazione in Italia ed il caso Mezzogiorno, Isabella Falautano, Paolo Guerrieri, p. 243-279
Il ruolo delle banche ed i servizi finanziari per la competitività delle imprese meridionali, Adriano Giannola, p. 281-320
I servizi reali per l'internazionalizzazione del Mezzogiorno, Raffaele Farella, p. 321-349
La politica di attrazione degli investimenti esteri nel Mezzogiorno ed il sostegno allo sviluppo delle aree arretrate, Silvia Nenci, p. 351-389
Internazionalizzazione e politiche di diffusione tecnologica nel nuovo contesto di decentramento amministrativo: analisi e proposte per il Mezzogiorno, Stefano Fantacone, Enrico Flaccadoro, Renzo Lolli, p. 391-436
Notizie sugli autori, p. 439-440