A Last Line of Defence: A Strategy for Europe to Preserve the Iran Nuclear Deal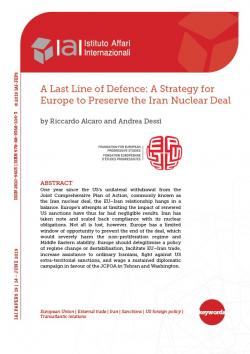 One year since the US's unilateral withdrawal from the Joint Comprehensive Plan of Action, commonly known as the Iran nuclear deal, the EU–Iran relationship hangs in a balance. Europe's attempts at limiting the impact of renewed US sanctions have thus far had negligible results. Iran has taken note and scaled back compliance with its nuclear obligations. Not all is lost, however. Europe has a limited window of opportunity to prevent the end of the deal, which would severely harm the non-proliferation regime and Middle Eastern stability. Europe should delegitimise a policy of regime change or destabilisation, facilitate EU–Iran trade, increase assistance to ordinary Iranians, fight against US extra-territorial sanctions, and wage a sustained diplomatic campaign in favour of the JCPOA in Tehran and Washington.
Paper produced in the framework of the IAI-FEPS project entitled "Europe and Iran in a fast-changing Middle East: Confidence-building measures, security dialogue and regional cooperation", June 2019.

iaip1914.pdf
Details

Rome, IAI, June 2019, 24 p.

In:


Issue

19|14

ISBN/ISSN/DOI:

978-88-9368-106-3
Introduction
1. European interests and the centrality of the JCPOA
1.1 Europe's stakes in the JCPOA
1.2 The JCPOA on life support
2. A European strategy for Iran
2.1 Discursive "normalisation" of Iran
2.2 Facilitation of EU–Iran trade
2.3 Resort to retaliatory measures
2.4 Increase of assistance to ordinary Iranians
2.5 Reframing the ballistic missile issue in regional terms
2.6 Intensification of consultations on regional issues
2.7 Waging a diplomatic campaign in Tehran and Washington
Conclusion
References