La politica europea dell'Italia. Un dibattito aperto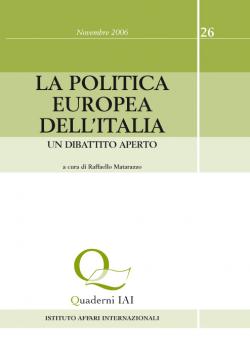 Despite the important achievements of recent years - the euro, enlargement, the intervention in the Balkans and the growing role in the Middle East and toward Iran - Europe is stalled and going through a period of internal discontent. Combined with the persistent economic stagnation, this could lead to a serious crisis and for Italy the consequences could be particularly negative. At the same time, Italy could, as it has done in the past, contribute to injecting new dynamism into the Union.
Proceedings of the international conference on "Europe beyond the crisis. Fifteen proposals for Italy's European policy", on the occasion of the 40th Anniversary of the Istituto Affari Internazionali, Rome, 23-24 January 2006.

quaderni_26.pdf
Details

Roma, Istituto Affari Internazionali, November 2006, 153 p.

In:


Issue

26
Parte prima
I quarant'anni dello Iai e la Conferenza internazionale su Italia-Europa 2006
Presentazione di Gianni Bonvicini dell'anniversario dello Iai e della conferenza su Italia-Europa 2006
Intervento di Stefano Silvestri davanti al Presidente della Repubblica Carlo Azeglio Ciampi
Intervento del Presidente della Repubblica Carlo Azeglio Ciampi

Parte seconda
Europa oltre la crisi: quindici punti per la politica europea dell'Italia, il documento introduttivo della conferenza, di Ettore Greco, Tommaso Padoa-Schioppa, Stefano Silvestri

Parte terza
La Conferenza e il dibattito sul documento introduttivo dello Iai

Prima sessione
Oltre la stagnazione: questioni economiche e sociali
Interventi di: Tommaso Padoa-Schioppa, Marco Buti, Daniele Gros, Mario Monti, Pier Carlo Padoan, Jean Pisani-Ferry, Fabrizio Saccomanni

Seconda sessione
Oltre gli allargamenti: proiezione internazionale e sicurezza
Interventi di: Gianni Bonvicini, Stefano Silvestri, Vincenzo Camporini, Cesare Merlini, Alessandro Minuto Rizzo, Thierry De Montbrial, Ferdinando Nelli Feroci, Gian Luigi Tosato, Stefano Silvestri

Terza sessione
Oltre il No francese e olandese: la riforma istituzionale
Interventi di: Ettore Greco, Lamberto Dini, Silvio Fagiolo, Mathias Jopp, Stefano Micossi, Giorgio Napolitano Umberto Ranieri, Otto Shily

Tavola Rotonda
Oltre le divisioni: la componente bipartisan della politica europea dell'Italia
Interventi di: Piero Fassino, Domenico Fisichella, Savino Pezzotta, Luigi Ramponi, Francesco Rutelli, Dario Rivolta