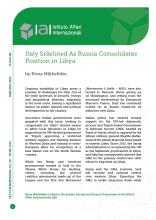 Italy Sidelined As Russia Consolidates Position in Libya
Nona Mikhelidze*

Ongoing instability in Libya poses a number of challenges for Italy. Out of the wide spectrum of security, energy and geopolitical interests, migration is the most acute, having a significant impact on public opinion and political developments in the country.

Successive Italian governments have grappled with this issue, seeking to compensate for Italy's limited means to affect local dynamics in Libya by supporting the UN-backed government in Tripoli, approving a restricted military support and training mission in Western Libya and turning to extra-European allies for recognition of a lead Italian role in the North African country.

While the Renzi and Gentiloni governments tended to look to the Obama White House for backing, others, including the present coalition government made up of the League and the Five Star Movement (Movimento 5 Stelle – M5S), have also turned to Moscow. Never giving up on Washington, and reeling from the increased involvement by Emmanuel Macron's France, Italy has cautiously looked on as Russia enhanced its influence over Libya.

Italian policy has centred around support for the UN-led diplomatic process and Tripoli-based Government of National Accord (GNA) headed by Fayez al-Sarraj, which is opposed by the Libyan military general Khalifa Haftar, head of the Libyan National Army based in eastern Libya. Since 2015, the Sarraj administration is recognised by the UN as the legitimate government in Libya, and Italy has consequently insisted that GNA be the primary interlocutor with whom to negotiate on Libya.

Sarraj and the GNA, however, lack full security and political control over western Libya. Expecting the GNA to tackle migratory flows while restoring security and control over Libya was therefore unrealistic. Yet, Italy continued to prioritise dealings with Sarraj, betting that the GNA would be strengthened by the UN-backed diplomatic process. Support for Sarraj therefore emerged as the central tenant of Italian policy, not least since Tripolitania represents the key departure point for migrants reaching Italian shores.

In its efforts to support the UN-led settlement plan and consolidate its leadership role within Europe on the Libyan dossier, Rome seems to have underestimated, or misread, the interests of other regional and international actors. This is true with regards to Washington and Paris, but it is also and perhaps more true with regards to Moscow.

Rome failed to understand that Moscow had its own political interests in Libya. Indeed, the Kremlin, while nominally recognising the GNA and supporting the UN settlement plan, has cultivated close contacts (and arguably cooperation) with General Haftar, who continues to oppose the UN plan and last April launched an all-out military assault on Tripoli in an effort to overthrow Sarraj.

Libya has traditionally been one of Russia's most important partners in Africa and before 2011 Gaddafi was a key customer of Russian arms. Today, and after a small hiatus, Russia is quietly regaining important influence in the North African country. So far the Kremlin has signed military deals with twenty African states according to recently leaked documents obtained by The Guardian.[1]

In the run-up to the present escalation in Libya, Russia has been in contact with both opposing parties. However, at the UN, Moscow blocked a UN resolution calling on Haftar to stop his offensive in Tripoli.[2] The Kremlin then issued its own statement,[3] refusing to sign a joint call by Italy, France, the United Arab Emirates (UAE), the UK and the US.[4]

The decision to block the UN resolution reinforced the idea that Moscow wants to help Haftar in order to accrue further leverage over any eventual diplomatic settlement. Three days after the Kremlin blocked the resolution, Haftar visited Moscow.[5]

Rumours about military cooperation go back to 2016, when General Haftar met with Foreign Minister Sergey Lavrov and asked for military support.[6] In return, Haftar promised to establish two Russian military bases in eastern Libya, one in Benghazi and another in Tobruk. The Kremlin officially refused Haftar's proposal, arguing that any such cooperation would be provided only after a political settlement was reached in Libya. However, private military companies, such as Wagner Group and the RSB Group, have started to operate in Libya.[7]

Indeed, during a 2018 visit to Moscow, Haftar met Russian Defence Minister Sergey Shoygu and Yevgeny Prigozhin, owner of the Wagner Group. The Russian newspaper Novaya Gazeta published an online video of the meeting.[8]

In March 2019, the Telegraph also reported that 300 Russian mercenaries of the Wagner Group were in Benghazi helping Haftar. "They are trying to secure the deep-water ports of Tobruk and Derna for the Russian fleet and also could control the flow of oil to southern Europe if they take over Libya's energy industry", a British government source was quoted as saying.[9] In 2018, a Russian daily reported that Russia had sent troops to eastern Libya, citing a source close to the Russian Defence Minister.[10]

Some analysts consider that the delivery of Russian weapons to Haftar may have been carried out via intermediaries, such as Egypt or the UAE, in order to shield Moscow from accusations of violating the UN arms embargo on Libya.[11] Al Jazeera also reported that two Russian-made Ilyushin 76 aircrafts had crossed Egypt, Israel and Jordan before landing at military bases controlled by Haftar last April.[12] Moreover, there have been reports about Libyan soldiers loyal to Haftar being treated in Russian hospitals and trained in Russia.[13]

Alongside this growing military presence, Russia is also reinforcing its position in the economic and energy sectors. In 2017, Rosneft signed an agreement with the Libyan National Oil Company to cooperate in oil extraction.

If the Russian military presence may represent a challenge to NATO's southern flank, its energy activities also challenge Italian and French energy companies, namely Eni and Total. Eni and British BP have an agreement with the Libyan GNA. In 2018, Eni bought 43.5 per cent of BP's share in the oil and gas exploration contract (around 8-11 billion cubic metres of gas in Libya is delivered to Italy each year).[14]

Libya also figures on Russia's security policy agenda. Russia wants to fill the geopolitical vacuum that has emerged in the post-Gaddafi era, regain its status as a great power and become a player in Europe's Southern Neighbourhood; as doing so would also challenge US influence in the Mediterranean.

Since the military campaign began in April, Russia seems to have moved to openly favour Haftar in Libya, even if it refuses to admit so officially. Russia thinks stability in Libya is best guaranteed by autocratic rule and a leader with a military background. Moreover, for the Kremlin, Haftar is the one who will guarantee Russian military, economic and energy presence in the country.

Italy seemed to think that Russia could help moderate Haftar's opposition to the UN-backed plan. When Italian Prime Minister Giuseppe Conte convened a conference on Libya in Palermo in November 2018, Rome closely coordinated efforts with Russia in order to convince a reluctant Haftar to participate, meeting his rival Sarraj.

The conference, however, helped crystallise Haftar's role, further reinforcing his international standing.[15] In this way, Italy also indirectly reinforced the Kremlin's position in the Mediterranean, marginalising Rome's own policy of support for the GNA in Libya.

As Haftar's assault on Tripoli continues, and European states appear unable to promote a united stance, it is clear that Russia has emerged as an important player in the North African country. With minimal investments and publicity, Moscow has accrued significant leverage over any diplomatic effort in the country, consolidating its position and arguably gaining more influence than it had back in 2011.

Italy, Europe and the US will all have to adapt to this reality. These actors should redouble their efforts to advance common positions on the conflict, setting aside narrow interests and short-sighted competition that have undermined Europe's stance and allowed Russia an opening to return to Libya and consolidate its position in the security, economic and diplomatic realms.


* Nona Mikhelidze is Head of the Eastern Europe and Eurasia Programme of the Istituto Affari Internazionali (IAI).

[1] Luke Harding and Jason Burke, "Leaked Documents Reveal Russian Effort to Exert Influence in Africa", in The Guardian, 11 June 2019, https://gu.com/p/bjhcn.

[2] AFP, "Russia Blocks UN Libya Statement Singling Out Haftar's Forces", in France24, 8 April 2019, http://f24.my/4i3p.T.

[3] Yacqub Ismail, "Russia's Endgame in Libya", in International Policy Digest, 8 April 2019, https://intpolicydigest.org/?p=147126.

[4] Libya – Joint Statement by France, Italy, the UAE, the UK and the US, 4 April 2019, https://www.diplomatie.gouv.fr/en/country-files/libya/events/2019/article/libya-joint-statement-by-france-italy-the-uae-the-uk-and-the-us-04-04-2019.

[5] Samuel Ramani, "Russia's Mediation Goals in Libya", in Sada, 18 April 2019, https://carnegieendowment.org/sada/78940.

[6] "Libyan Strongman Haftar Meets Lavrov, Shoigu in Moscow", in Radio Free Europe/Radio Liberty, 14 August 2017, https://www.rferl.org/a/russia-libya-haftar-meeting-moscow-lavrov-shoigu/28676446.html.

[7] Before Libya, Wagner was active in Syria and now in Eastern Ukraine. In 2017, the United States Treasury Department imposed sanctions on Wagner Group because of its involvement in Ukraine. See: Eric Schmit, "Russia's Military Mission Creep Advances to a New Front: Africa", in The New York Times, 31 May 2019, https://nyti.ms/2FMh34S.

[8] Emily Sherwin, "Could Libya Be Russia's New Syria?", in Deutsche Welle, 10 April 2019, https://p.dw.com/p/3GZ7P.

[9] Alec Luhn and Dominic Nicholls, "Russian Mercenaries Back Libyan Rebel Leader As Moscow Seeks Influence in Africa", in The Telegraph, 3 March 2019. See also: Michel Cousins, "Questions Over Russian, US Roles in Libya Resurface", in The Arab Weekly, 17 March 2019, p. 5, https://thearabweekly.com/questions-over-russian-us-roles-libya-resurface.

[10] Emily Sherwin, "Could Libya Be Russia's New Syria?", cit.

[11] Mattia Toaldo, "Russia in Libya: War or Peace?", in ECFR Commentaries, 2 August 2017, https://www.ecfr.eu/article/commentary_russia_in_libya_war_or_peace_7223.

[12] "Libya: Flight Data Places Mysterious Planes in Haftar Territory", in Al Jazeera, 28 May 2019, https://aje.io/4gml9.

[13] Anna Maria Dyner, "Russia's Libya Policy", in PISM Bulletin, No. 6 = 1252 (15 January 2019), p. 2, http://www.pism.pl/files/?id_plik=25305.

[14] Ibid.

[15] Grigory Lukyanov, "The Palermo Conference on Libya: Any Achievements?", in Valdai Expert Opinions, 16 November 2018, http://valdaiclub.com/a/highlights/the-palermo-conference-on-libya-any-achievements.
Details:
Rome, IAI, June 2019, 4 p.