India's Institutional Governance and the Energy Transition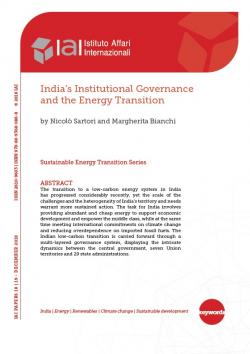 The transition to a low-carbon energy system in India has progressed considerably recently, yet the scale of the challenges and the heterogeneity of India's territory and needs warrant more sustained action. The task for India involves providing abundant and cheap energy to support economic development and empower the middle class, while at the same time meeting international commitments on climate change and reducing overdependence on imported fossil fuels. The Indian low-carbon transition is carried forward through a multi-layered governance system, displaying the intricate dynamics between the central government, seven Union territories and 29 state administrations.
Paper prepared in the framework of the IAI-Eni Strategic Partnership, November 2018.

iaip1819.pdf
Details

Rome, IAI, December 2018, 18 p.

In:


Issue

18|19

ISBN/ISSN/DOI:

978-88-9368-086-8
Introduction
1. India's impressive energy path
2. Improving the Indian energy sector's sustainability: challenges and policies
3. The structure of Indian energy and climate policy
4. An obstacle to Indian ambitions?
Conclusion
References