The implications of global multi-crises for EU-Africa relations in the food security domain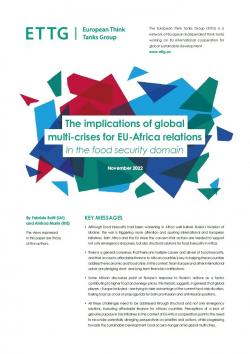 Although food insecurity had been worsening in Africa well before Russia´s invasion of Ukraine, the war is triggering more attention and spurring international and European initiatives. Both Africa and the EU share the concern that actions are needed to support not only emergency responses, but also structural solutions for food insecurity in Africa. There is a general consensus that there are multiple causes and drivers of food insecurity, and that access to affordable finance to African countries is key to helping these countries address the economic and food crises. In this context, Team Europe and other international actors are pledging short- and long-term financial contributions. Some African discourses point at Europe's response to Russia's actions as a factor contributing to higher food and energy prices. This rhetoric suggests, in general, that global players – Europe included – are trying to take advantage of the current food crisis situation, fueling food as a tool of propaganda for both pro-Russian and anti-Russian positions. All these challenges need to be addressed through structural and not only emergency solutions, including affordable finance for African countries. Perceptions of a lack of genuine purpose in EUs initiatives in the context of EU-Africa cooperation point to the need to reconcile potentially diverging perspectives on priorities and actions, while progressing towards the Sustainable Development Goal on zero-hunger amid global multi-crises.
Details

(with Ainhoa Marín), in ETTG Publications, November 2022, 6 p.