Implications of the COVID-19 Pandemic for Africa–EU Partnership on Migration and Mobility: A Developmental Perspective from West Africa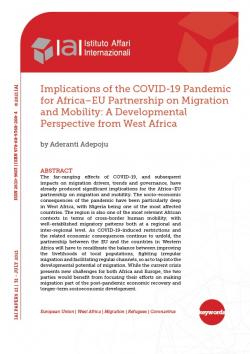 The far-ranging effects of COVID-19, and subsequent impacts on migration drivers, trends and governance, have already produced significant implications for the Africa–EU partnership on migration and mobility. The socio-economic consequences of the pandemic have been particularly deep in West Africa, with Nigeria being one of the most affected countries. The region is also one of the most relevant African contexts in terms of cross-border human mobility, with well-established migratory patterns both at a regional and inter-regional level. As COVID-19-induced restrictions and the related economic consequences continue to unfold, the partnership between the EU and the countries in Western Africa will have to recalibrate the balance between improving the livelihoods of local populations, fighting irregular migration and facilitating regular channels, so as to tap into the developmental potential of migration. While the current crisis presents new challenges for both Africa and Europe, the two parties would benefit from focusing their efforts on making migration part of the post-pandemic economic recovery and longer-term socioeconomic development.
Paper prepared in the framework of the project "A New European Consensus on Asylum & Migration".

iaip2131.pdf
Details

Rome, IAI, July 2021, 23 p.

In:


Issue

21|31

ISBN/ISSN/DOI:

978-88-9368-208-4
Introduction
1. Policy priorities and approaches governing the Africa–EU partnership on migration and mobility
2. The impact of COVID-19 on Nigeria and West Africa
2.1 Health-related effects
2.2 Measures introduced to contain the spread of the virus
2.3 Socioeconomic impact of COVID-19
3. The impact of COVID-19 on mobility and migration
Conclusion: The way forward for Africa–EU migration partnership in a post-pandemic world
References