Implications of the COVID-19 Pandemic for the Africa-EU Partnership Agenda on Migration and Mobility: A Continental Perspective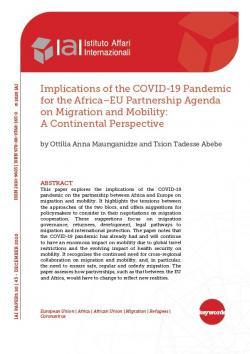 This paper explores the implications of the COVID-19 pandemic on the partnership between Africa and Europe on migration and mobility. It highlights the tensions between the approaches of the two blocs, and offers suggestions for policymakers to consider in their negotiations on migration cooperation. These suggestions focus on migration governance, returnees, development, legal pathways to migration and international protection. The paper notes that the COVID-19 pandemic has already had and will continue to have an enormous impact on mobility due to global travel restrictions and the evolving impact of health security on mobility. It recognises the continued need for cross-regional collaboration on migration and mobility, and, in particular, the need to ensure safe, regular and orderly migration. The paper assesses how partnerships, such as that between the EU and Africa, would have to change to reflect new realities.
Paper prepared in the framework of the project "A New European Consensus on Asylum & Migration".

iaip2043.pdf
Details

Rome, IAI, December 2020, 18 p.

In:


Issue

20|43

ISBN/ISSN/DOI:

978-88-9368-165-0
Introduction
1. Understanding Africa's stance on migration
2. Existing frameworks on migration between Africa and Europe
3. Taking stock of key issues in Africa-EU relations on migration
3.1 Securitisation of migration
3.2 Legal labour migration pathways
3.3 Migration and economic development
3.4 Remittances
3.5 International protection
3.6 Returns, readmission and reintegration
Conclusion
References