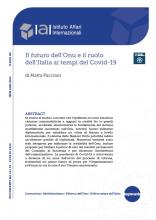 Di fronte al rischio concreto che l'epidemia in corso favorisca chiusure nazionalistiche e aggravi la rivalità fra le grandi potenze, erodendo ulteriormente le fondamenta del sistema multilaterale incentrato sull'Onu, servono nuove iniziative diplomatiche per ristabilire un clima di fiducia a livello internazionale. Il sistema delle Nazioni Unite potrebbe subire un'ulteriore perdita di legittimità. Numerosi tentativi sono stati intrapresi per rafforzare la credibilità dell'Onu, incluse proposte per limitare il potere di veto dei membri permanenti del Consiglio di Sicurezza e per riformare l'architettura dell'organizzazione. La pandemia di Covid-19 è intervenuta a distanza di un anno dall'avvio del processo di riforma, rivelandosi un primo banco di prova per l'Organizzazione nell'anno in cui ricorre il suo 75esimo anniversario.
Summary report of the web seminar entitled "Il futuro dell'Onu e il ruolo dell'Italia ai tempi del Covid-19", organised on 12 June 2020 by the Istituto Affari Internazionali (IAI) in the framework of the project "Osservatorio IAI-ISPI sulla politica estera italiana".
Details:
Rome, IAI, July 2020, 5 p.