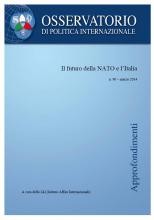 Il presente Approfondimento intende fornire una panoramica della possibile evoluzione futura dell'Alleanza atlantica, analizzando alcune delle principali problematiche che la Nato dovrà affrontare e risolvere nel breve e medio periodo. Il ruolo e gli interessi dell'Italia, ove opportuno, sono evidenziati e discussi. I primi due paragrafi riassumono brevemente qual è stata l'evoluzione della Nato negli ultimi anni, sottolineando elementi e tendenze le cui conseguenze sono ancora oggi attuali, e che pertanto è necessario conoscere per comprendere appieno le dinamiche odierne. Il primo paragrafo affronta il tema dell'evoluzione dell'alleanza da organizzazione dedita alla difesa collettiva a organizzazione di sicurezza cooperativa, mentre il secondo discute l'ampliamento del raggio di azione della Nato dall'area euro-atlantica alla "Nato globale". Il terzo paragrafo discute l'evoluzione recente della Nato dal vertice di Lisbona del 2010, che ha sancito l'approvazione del nuovo concetto strategico, fino ad oggi, analizzando i principali temi che andranno affrontati in futuro.
Paper produced within the framework of the project International Relations Observatory.
Details:
Roma, Camera dei deputati, March 2014, 18 p.
Nota introduttiva
1. Dalla difesa collettiva alla sicurezza cooperativa
2. Dall'Atlantico del Nord al mondo
3. Da Lisbona ad oggi
Conclusioni