Il caso dei marò trattenuti in India e la via dell'internazionalizzazione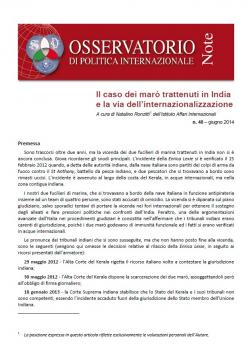 It has been over two years, but the story of the two marines detained in India has not yet ended. On 24 April 2014, the Minister of Foreign Affairs Federica Mogherini said to the Senate which intends to give a twist to the story by changing the strategy followed so far, bringing the issue to the international level. What does it mean and what tools can be activated?
Paper produced within the framework of the project International Relations Observatory.

pi_n_0048.pdf
Details

Roma, Camera dei deputati, June 2014, 6 p.

Issue

Note 48
Premessa
L'apertura di una nuova fase
Gli strumenti della nuova fase
Mezzi per risolvere le controversie internazionali
L'Arbitrato secondo l'Annesso VII della Convenzione del diritto del mare
Conclusione