The Gulf Cooperation Council's Shift to Gas. Avoiding Another Fossil Fuel Trap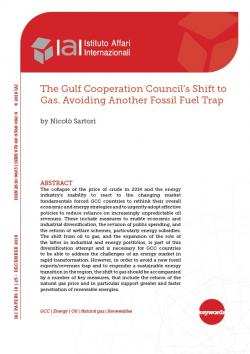 The collapse of the price of crude in 2014 and the energy industry's inability to react to the changing market fundamentals forced GCC countries to rethink their overall economic and energy strategies and to urgently adopt effective policies to reduce reliance on increasingly unpredictable oil revenues. These include measures to enable economic and industrial diversification, the revision of public spending, and the reform of welfare schemes, particularly energy subsidies. The shift from oil to gas, and the expansion of the role of the latter in industrial and energy portfolios, is part of this diversification attempt and is necessary for GCC countries to be able to address the challenges of an energy market in rapid transformation. However, in order to avoid a new fossil exports/revenues trap and to engender a sustainable energy transition in the region, the shift to gas should be accompanied by a number of key measures, that include the reform of the natural gas price and in particular support greater and faster penetration of renewable energies.
Paper prepared in the framework of the IAI-Eni Strategic Partnership, December 2018.

iaip1825.pdf
Details

Rome, IAI, December 2018, 13 p.

In:


Issue

18|25

ISBN/ISSN/DOI:

978-88-9368-092-9
Introduction
1. The oil sector in transition: Implications for GCC countries
2. The contribution of gas to the transformational process
3. Steps forward
References