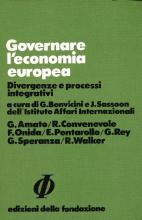 Nelle economie e nelle società degli Stati membri delle Comunità si sono verificati negli ultimi anni numerosi elementi di novità. Questi elementi hanno, spesso, una direzione divergente: pongono quindi un difficile problema di gestire con modalità nuove il processo di unificazione europea. L'analisi di questi elementi, coordinata da Bonvicini e Sassoon dello IAI, è stata condotta da Giuliano Amato, Roberto Convenevole, Fabrizio Onida, Enzo Pontarollo, Guido M. Rey, Gaetano Speranza, Richard Walker. Gli autori si chiedono in che misura si tratti di mutamenti strutturali delle economie e delle società nazionali e quale grado di incompatibilità si stia creando fra di esse; quali siano i vincoli posti dall'interdipendenza fra gli Stati membri della CEE; quale, infine, lo spazio rimasto alle Comunità europee e che tipo di azione è necessario prevedere nel futuro per evitare l'accentuarsi dell'attuale situazione di difficoltà nel processo di integrazione europeo.
Report prepared by the Istituto Affari Internazionali (IAI) on behalf of the Giovanni Agnelli Foundation.
Details:
Torino, Fondazione Giovanni Agnelli, December 1978, 329 p.
Presentazione, p. 7-11
Le divergenze economiche e politico istituzionali nella Cee, Gianni Bonvicini e Joseph Sassoon, p. 13-49
I paesi della Cee nella divisione internazionale del lavoro, Fabrizio Onida, p. 51-105
La riconversione industriale nei paesi della Cee, Enzo Pontarollo, p. 107-142
Le modificazioni strutturali dei mercati del lavoro nei paesi della Cee, Gaetano Speranza, p. 143-182
L'intervento dello stato nelle economie europee, Guido M. Rey e Roberto Convenevole, p. 183-230
La politica della spesa e la politica fiscale come strumenti di consenso in Europa, Giuliano Amato, p. 231-258
La politica dei redditi in Europa, Richard Walker, p. 259-295
Le prospettive dell'integrazione europea. Il ruolo della Comunità nel controllo delle divergenze, Gianni Bonvicini e Joseph Sassoon, p. 297-329