Global Economic Trends and Recovery Prospects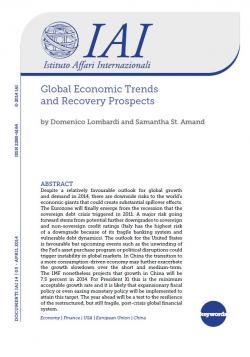 Despite a relatively favourable outlook for global growth and demand in 2014, there are downside risks to the world's economic giants that could create substantial spillover effects. The Eurozone will finally emerge from the recession that the sovereign debt crisis triggered in 2011. A major risk going forward stems from potential further downgrades to sovereign and non-sovereign credit ratings (Italy has the highest risk of a downgrade because of its fragile banking system and vulnerable debt dynamics). The outlook for the United States is favourable but upcoming events such as the unwinding of the Fed's asset purchase program or political disruptions could trigger instability in global markets. In China the transition to a more consumption-driven economy may further exacerbate the growth slowdown over the short and medium-term. The IMF nonetheless projects that growth in China will be 7.5 percent in 2014. For President Xi this is the minimum acceptable growth rate and it is likely that expansionary fiscal policy or even easing monetary policy will be implemented to attain this target. The year ahead will be a test to the resilience of the restructured, but still fragile, post-crisis global financial system.
Paper prepared within the framework of the Global Outlook Programme. Presented as part I of the Final report at the conference Global Outlook 2014 "Europa e Italia: le sfide dell'internazionalizzazione", Rome, 17 March 2014.

iai1405.pdf
Details

Roma, Istituto affari internazionali, April 2014, 13 p.

In:


Issue

14|05
Introduction
1. The US economy
2. The Eurozone economy
3. China
Conclusions
References