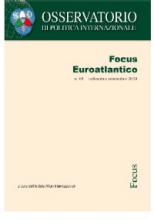 Il viaggio del Presidente Obama in Terra Santa, di Andrea Dessì
L'evoluzione dei rapporti tra Stati Uniti ed Europa, gennaio-marzo 2013, di Giordano Merlicco
Prometeo liberato? Opportunità e costi dell'accordo Usa-Ue su commercio e investimenti, di Riccardo Alcaro
Paper produced within the framework of the project International Relations Observatory .
Details:
Roma, Senato, 2013, 40 p.