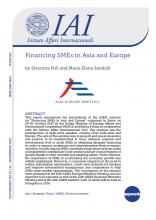 This report summarises the proceedings of the ASEM seminar on "Financing SMEs in Asia and Europe" organised in Rome on 29-30 October 2015 by the Italian Ministry of Foreign Affairs and International Cooperation (MAECI) and Banca d'Italia, in cooperation with the Istituto Affari Internazionali (IAI). The seminar saw the participation of high-level speakers coming from both Asia and Europe. The aim of the seminar was to present and assess measures and policies to be implemented at local, national, regional and international level to assist SMEs in obtaining adequate financing in order to expand, modernise and internationalise their economic activities. In both regions SMEs constitute a large share of firms, make a fundamental contribution to job creation and are crucial engines of growth thanks to their versatile and adapting nature. At the seminar, the importance of SMEs in accelerating the economic growth was widely emphasised. Moreover, a consensus emerged on the need to reduce information asymmetries, create new channels for funding and improve international transparency and cooperation to help SMEs seize market opportunities. The conclusions of the seminar were presented at the 12th ASEM Foreign Ministers Meeting, and are expected to be reported as well at the 12th ASEM Financial Ministers Meeting and at the 11th ASEM Summit, both of which will be held in Mongolia in 2016.
Report of the ASEM seminar on "Financing SMEs in Asia and Europe", held in Rome on 29-30 October 2015.
Details:
Roma, IAI, November 2015, 12 p.
Introduction
Panel 1. Frameworks and working conditions for financing ASEM SMEs
Panel 2. Access to capital and private equity funds: boosting new forms of investment for ASEM SMEs
Panel 3. A globalized market for ASEM SMEs: seizing the opportunities for credit and finance
Conclusion
Annex. Programme and Agenda