Europe in an Uncertain World: Values vs. Security Interests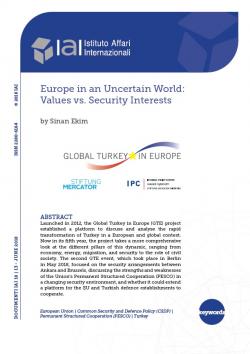 Launched in 2012, the Global Turkey in Europe (GTE) project established a platform to discuss and analyse the rapid transformation of Turkey in a European and global context. Now in its fifth year, the project takes a more comprehensive look at the different pillars of this dynamic, ranging from economy, energy, migration, and security to the role of civil society. The second GTE event, which took place in Berlin in May 2018, focused on the security arrangements between Ankara and Brussels, discussing the strengths and weaknesses of the Union's Permanent Structured Cooperation (PESCO) in a changing security environment, and whether it could extend a platform for the EU and Turkish defence establishments to cooperate.
Report of the seminar "PESCO and Security Cooperation between EU and Turkey", organized in Berlin on 14 May 2018 by the Istituto Affari Internazionali (IAI), Istanbul Policy Center (IPC) and Stiftung Mercator under the Global Turkey in Europe V programme.

iai1813.pdf
Details

Rome, IAI, June 2018, 8 p.

In:


Issue

18|13
Introduction
1. Security cooperation between Turkey and the EU
2. What is PESCO, and does Turkey stand to benefit from it?
3. PESCO: What now, and the way forward