Europe–Africa relations in a multi-crises world: Turning the page after COVID-19, the EU-AU Summit and the war against Ukraine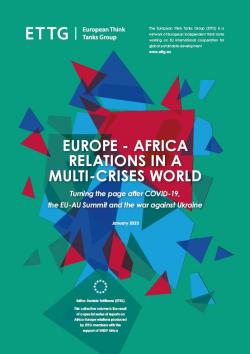 This report is the outcome of a partnership initiative launched in 2022 by the European Think Tanks Group (ETTG) and the United Nations Development Programme (UNDP) Regional Bureau of Africa. It follows earlier cooperation on AU-EU relations between the two organisations in 2020 and 2021. Our partnership has aimed to assess the status of Africa-Europe relations in the follow-up of the AU- EU summit in Brussels (17-18 February 2022). In the meantime, the world, Europe and Africa have gone through turbulent times with the war in Ukraine. This was on top of major problems created by the COVID-19 crisis and a succession of natural disasters as a result of climate change. ETTG policy analysts conducted research and published four policy papers that analyse how these multiple crises have impacted the Africa- Europe partnership in four key areas: i) climate change and fair energy transition; ii) food security; iii) peace, security and governance and iv) development finance. The analyses served to inform deliberations during a two day conference entitled "Assessing the implications of COVID-19 and the war in Ukraine for Africa and Europe-Africa relations" that took place in Brussels on November 30 and December 1, 2022. The four discussion papers are included in this report, along with an introduction, some observations about the current state of the partnership and a concluding section presenting the main findings and takeaways of the seminar.
Details

in ETTG Publications, January 2023, 42 p.
Foreword, p. 3
Introduction, p. 4-5
1. Learning to manage different interests and expectations in the AU-EU Partnership / Geert Laporte, p. 6-9
2. Africa and Europe in the aftermath of COP27: How to deliver results in times of crisis? / Ines Bouacida, Elisabeth Hege, Gabriela Iacobuta, Niels Keijzer and Svea Koch, p. 10-15
3. Growing food insecurity in Africa. How to avoid a new food crisis? / Fabrizio Botti and Ainhoa Marín, p. 16-21
4. Rising authoritarian rule and conflicts. How to turn the tide? / Lidet Tadesse Shiferaw and Irene Paviotti, p. 22-27
5. Financing sustainability: How to mobilise more and better development finance in times of scarcity? / San Bilal, Iliana Olivié and María Santillán O'Shea, p. 28-36
6. Findings and takeaways from the seminar, p. 37-42