EU foreign policy in the Asia Pacific: striking the right balance between the US, China and ASEAN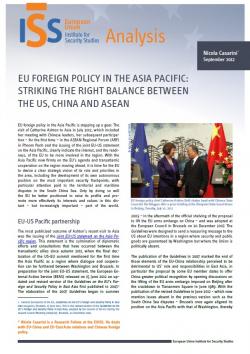 EU foreign policy in the Asia Pacific is stepping up a gear. The visit of Catherine Ashton to Asia in July 2012, which included her meeting with Chinese leaders, her subsequent participation – for the first time – in the ASEAN Regional Forum (ARF) in Phnom Penh and the issuing of the joint EU-US statement on the Asia Pacific, clearly indicate the interest, and the readiness, of the EU to be more involved in the region. With the Asia Pacific now firmly on the EU's agenda and transatlantic cooperation on the region moving ahead, it is time for the EU to devise a clear strategic vision of its role and priorities in the area, including the development of its own autonomous position on the most important security flashpoints, with particular attention paid to the territorial and maritime disputes in the South China Sea. Only by doing so will the EU be better positioned to raise its profile and promote more effectively its interests and values in this distant – but increasingly important – part of the world.
Details

in EUISS Analyses, September 2012, 6 p.
EU-US Pacific partnership
US-China tussle and the emergence of competing camps
In praise of closer EU-ASEAN relations
The EU-China connection
Conclusion: striking the right balance