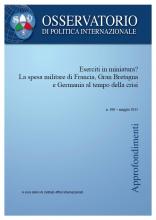 Questo documento propone un'analisi comparativa delle spese per la difesa di Francia, Gran Bretagna e Germania, i tre paesi europei più simili all'Italia per "taglia", ruolo e ambizioni internazionali. I budget della difesa sono esaminati sia dal punto di vista quantitativo – evidenziandone l'andamento negli ultimi anni e quello prevedibile nel futuro – ma anche qualitativo, con particolare attenzione per il bilanciamento tra le varie componenti della spesa e l'adeguatezza rispetto al livello di ambizione militare che sono chiamati a soddisfare. L'analisi effettuata consente di affermare che i paesi in esame rischiano di costituire "eserciti in miniatura": forze armate modernamente equipaggiate ma troppo piccole, in grado di esprimere una gamma completa di capacità militari solo in misura talmente limitata, dal punto di vista quantitativo, da essere scarsamente utilizzabili. Questo rischio deriva, in sostanza, dal tentativo di "fare troppo con troppo poco", cioè di continuare a mantenere un livello di ambizione fuori scala rispetto alle risorse messe effettivamente a disposizione per le Forze armate.
Paper produced within the framework of the project International Relations Observatory.
Details:
Roma, Camera dei Deputati, May 2015, 21 p.
Introduzione
1. Le spese per la difesa a livello globale e l'Europa
2. La spesa per la difesa in Europa oggi
3. Francia
4. Germania
5. Gran Bretagna
6. Conclusioni: verso eserciti in miniatura?