Domestic Politics and Conflict in the Cases of Israel, Palestine and Lebanon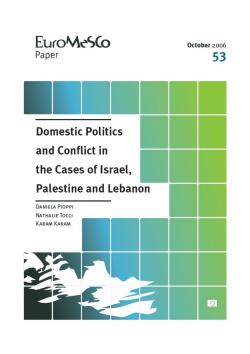 This study analyses some of the major structural, interest-based and ideational domestic drivers in Israel, Palestine and Lebanon and examines to which extent they have impinged upon the ensuing inter-connected conflict hubs in the region. The study also discusses how external actors, and most importantly the EU, have affected these conflicts in view of these drivers.
Report jointly submitted by the Istituto Affari Internazionali (IAI) and the Lebanese Center for Policy Studies (LCPS) in the framework of the EuroMeSCo project.
Details

Lisboa, EuroMeSCo Secretariat at the IEEI, October 2006, 35 p. (EuroMeSCo Papers ; 53)
Executive Summary
Introduction

Part I. Israel, Daniela Pioppi
1. The Israeli Drivers of Conflict: The Unremitting Policies of Territorial Expansion and Demography
1.1 The Israeli Domestic Scene
1.2 The Oslo Process and the 2 States Solution
1.3 The Failure of Oslo and the Policy of Unilateral Disengagement
2. External Influences on Israel: The Policy of Unconditional Support

Part II. Palestine, Nathalie Tocci
1. Palestinian Dynamics and their Impact on the Israeli-Palestinian Conflict
1.1 Structural Palestinian Factors and Their Impact on the Conflict
1.2 Interests and Ideology
1.3 Closing the Circle: The Impact of the Conflict on the Palestinian Political Scene
2. External Influences on Palestine

Part III. Lebanon, Karam Karam
1. The Lebanese Political System After Taif
1.1 Political Cleavages in Post-War Lebanon
1.2 The Difficulty of Reform in the Confessional System
2. From Syrian Tutelage to the Israeli War
2.1 The Crisis of the Presidential Elections and the Spring 2005 Demonstrations
2.2 From the National Dialogue to the Israeli War: A Way Out of the Impasse?
3. Foreign Influences on Lebanese, Syrian and Israeli Bilateral Relations and Lebanese Domestic Politics

Conclusions and Policy Recommendation to the EU
Bibliography