A Defence Under Attack: Costs and Benefits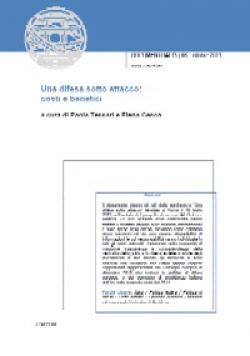 This paper reports the proceedings of the conference "A Defence Under Attack: Costs and Benefits" that was held in Rome on July 16, 2013 within the IAI research project Defence Matters. The two conference sessions addressed the Italian debate on missions abroad and defence expenditures by making clear how the discussion of both issues is undermined by a lack of information for which all the actors involved are responsible. By stressing the importance of greater transparency and awareness of the central importance of defence policy and the valuable return of investments in this field, the speakers by looking at opportunities for Italy provided by the European Council of December 2013 that will deal with defence issues and by the semester of Italian presidency of the EU in the second half of 2014.
Proceedings of the conference "Una difesa sotto attacco", organised in Rome on 16 July 2013 by the Istituto affari internazionali (IAI) within the IAI project Defence Matters.

iai1306e.pdf
Details

Roma, Istituto Affari Internazionali, 2013, 9 p.

In:


Issue

1306e
Introductory greeting, by Gen. Mario Arpino

First session: The debate on Italian missions abroad
Speakers: Nicola Latorre, Antonello Biagini, Gianluca Ales, Stefano Cont
Summary of the debate
Art. 11 and the need for a well-defined legal framework
Italians' opinions on the missions abroad and the media role

Second session: The debate on military expenditures
Speakers: Lucio Malan, Sergio Parazzini, Giancarlo Grasso
Summary of the debate
The need for more information
The industrial and employment benefits from defence investments