Customs Union: Old Instrument, New Function in EU-Turkey Relations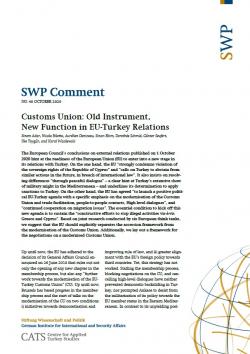 The European Council's conclusions on external relations published on 1 October 2020 hint at the readiness of the European Union (EU) to enter into a new stage in its relations with Turkey. On the one hand, the EU "strongly condemns violation of the sovereign rights of the Republic of Cyprus" and "calls on Turkey to abstain from similar actions in the future, in breach of international law". It also insists on resolv­ing differences "through peaceful dialogue" – a clear hint at Turkey's extensive show of military might in the Mediterranean – and underlines its determination to apply sanctions to Turkey. On the other hand, the EU has agreed "to launch a positive politi­cal EU-Turkey agenda with a specific emphasis on the modernisation of the Customs Union and trade facilitation, people-to-people contacts, High level dialogues", and "con­tinued cooperation on migration issues". The essential condition to kick off this new agenda is to sustain the "constructive efforts to stop illegal activities vis-à-vis Greece and Cyprus". Based on joint research conducted by six European think tanks, we suggest that the EU should explicitly separates the accession framework from the modernisation of the Customs Union. Additionally, we lay out a framework for the negotiations on a modernised Customs Union.
Details

(with Sinem Adar, Aurélien Denizeau, Dorothée Schmid, Günter Seufert, Ilke Toygür, Karol Wasilewski) in SWP Comments, No. 48 (October 2020), 4 p.